Home

>
Certification, 22 June 1844 [State of Illinois v. JS et al. for Riot–B]
Source Note

, Certification, [], Hancock Co., IL, 22 June 1844,

State of IL v. JS et al. for Riot–B

(Hancock Co., IL, Justice of the Peace Court 1844); handwriting of John McEwan; signature of ; one page; CHL. Includes seal and redaction.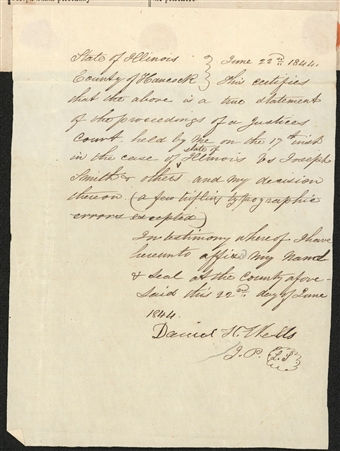 State of Illinois)
County of )
This certifies that the above is a true statement of the proceedings of a Justices Court. held by me on the 17
th
inst in the case of <​state of​> vs Joseph Smith & others and my decision thereon (a few trifling typographic errors excepted)
In testimony whereof I have hereunto affix my name & seal at the aforesaid this 22
nd

.
day of June 1844
J. P. L. S. [p. [1]]
State of Illinois)
County of )
This certifies that the above is a true statement of the proceedings of a Justices Court. held by me on the 17th inst in the case of state of vs Joseph Smith & others and my decision thereon (a few trifling typographic errors excepted)
In testimony whereof I have hereunto affix my name & seal at the aforesaid this 22
nd
. day of June 1844
J. P. L. S. [p. [1]]