Home

>
Declaration, circa 30 November 1837 [Boynton and Hyde v. JS]
Source Note

George W. Lynde, on behalf of and , Declaration, , OH, ca. 30 Nov. 1837,

Boynton and Hyde v. JS

(Geauga Co., OH, Court of Common Pleas 1838). Copied [ca. 3 Apr. 1838] in Transcript of Proceedings, Geauga County Court of Common Pleas, Common Pleas Record, vol. U, pp. 512–513; handwriting of Charles H. Foot; Geauga County Archives and Records Center, Chardon, OH. Transcription from a digital color image made of the original in 2011.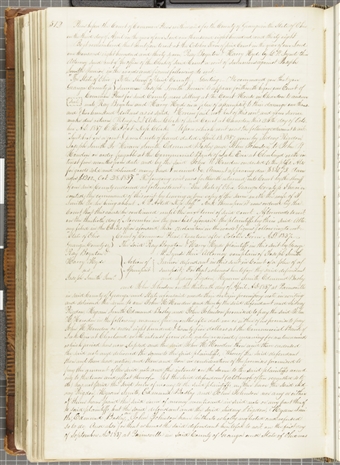 State of Ohio)
ss. [scilicet])
&)
Action of
)
vs)
Joseph Smith Jun

r.

)
Court of Common Pleas, after October Term A.D. 1837— The said & plaintiffs in this suit by George W. Lynde their Attorney complain of Joseph Smith Junior defendant in this suit in Court of a plea of assumpsit, For that whereas heretofore the said defendant and , , and on the thirteenth day of April AD 1837 at in said County of Geauga and State aforesaid made their certain promissory note in writing and delivered the same to one and thereby the said defendant and , , and promised to pay the said in the following manner, five months after date we or either of us promise to pay or order eight hundred & twenty five dollars at the Commercial Bank of Lake Erie at with interest from date value received (meaning for value received) which period has now elapsed and the said then and there endorsed the said note and delivered the same to the said plaintiffs, Whereof the said defendant then and there had notice, and then and there in consideration of the premises promised to pay the amount of the said note and the interest on the same to the said plaintiffs according to the tenor and effect thereof— Yet the said defendant (although often requested so to do) has not paid the said sum of money to the said plaintiffs, neither have the said , , and nor any or either of them have paid the said sum of money mentioned in said note or any part thereof to said plaintiffs, but the said defendant and the said , , , <​and​> have hitherto wholly neglected and refused so to do: And also for that whereas the said defendant heretofore to wit, on the first day of September AD 1837 at in said County of Geauga and State of Ohio was [p. 512]
State of Ohio)
ss. scilicet)
&)
Action of
)
vs)
Joseph Smith Junr.)
Court of Common Pleas, after October Term A.D. 1837— The said & plaintiffs in this suit by George W. Lynde their Attorney complain of Joseph Smith Junior defendant in this suit in Court of a plea of assumpsit, For that whereas heretofore the said defendant and , , and on the thirteenth day of April AD 1837 at in said County of Geauga and State aforesaid made their certain promissory note in writing and delivered the same to one and thereby the said defendant and , , and promised to pay the said in the following manner, five months after date we or either of us promise to pay or order eight hundred & twenty five dollars at the Commercial Bank of Lake Erie at with interest from date value received (meaning for value received) which period has now elapsed and the said then and there endorsed the said note and delivered the same to the said plaintiffs, Whereof the said defendant then and there had notice, and then and there in consideration of the premises promised to pay the amount of the said note and the interest on the same to the said plaintiffs according to the tenor and effect thereof— Yet the said defendant (although often requested so to do) has not paid the said sum of money to the said plaintiffs, neither have the said , , and nor any or either of them have paid the said sum of money mentioned in said note or any part thereof to said plaintiffs, but the said defendant and the said , , , and have hitherto wholly neglected and refused so to do: And also for that whereas the said defendant heretofore to wit, on the first day of September AD 1837 at in said County of Geauga and State of Ohio was [p. 512]