Home

>
Deposition, 26 February 1844 [City of Nauvoo v. Bostwick]
Source Note

, Deposition, , Hancock Co., IL, 26 Feb. 1844,

City of Nauvoo v. Bostwick

(Nauvoo, IL, Mayor's Court 1844); handwriting of ; certified by , 26 Feb. 1844; two pages; Nauvoo, IL, Records, CHL. Includes docket.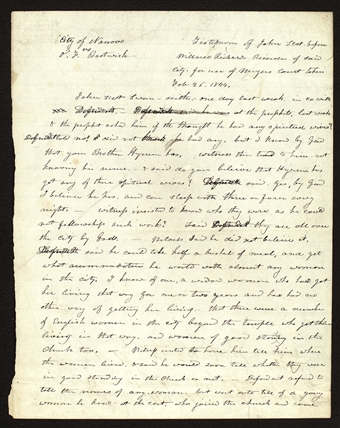 City of
vs
.—
Tistimony of — before Recorder of said . for use of Mayors Court taken Feb 26. 1844,
Sworn— saith.— one day last week, in co with <​​>,— —
he came
said he was at the prophets, last weeke & the prophet asked him if he thought he had any spiritual wives?
I
told no!
I
did not
think
know
you
he had any, but I know by God that your Brother has, then turned to him— not knowing his name— & said do you believe that has got any of those spiritual wives? <​​> said, Yes, by God I believe he has, and can sleep with three or four every night.— insisted to know who they were as he could not fellowship such work? Said <​​>, they are all over the by God.— said he did not believe it, <​​> said he could take half a bushel of meal, and get what accommodation he wanted with almost any woman in the . I know of one, a widow woman who
had
<​has​> got her living that way for one or two years and has had no other way of getting her living.— that there were a number of English women in the beyond the who got their living in that way, and women of good standing in the Church too.— ins[is]ted
he
to have him tell him where the women lived, & said he would soon tell whether they were in good standing in the Church or not.— refused to tell the names of any women, but went onto tell of a young woman he knew— at the east, who joined the church and came [p. [1]]
City of
vs
.—
Tistimony of — before Recorder of said . for use of Mayors Court taken Feb 26. 1844,
Sworn— saith.— one day last week, in co with ,— — said he was at the prophets, last weeke & the prophet asked him if he thought he had any spiritual wives? told no! did not know he had any, but I know by God that your Brother has, then turned to him— not knowing his name— & said do you believe that has got any of those spiritual wives? said, Yes, by God I believe he has, and can sleep with three or four every night.— insisted to know who they were as he could not fellowship such work? Said , they are all over the by God.— said he did not believe it, said he could take half a bushel of meal, and get what accommodation he wanted with almost any woman in the . I know of one, a widow woman who has got her living that way for one or two years and has had no other way of getting her living.— that there were a number of English women in the beyond the who got their living in that way, and women of good standing in the Church too.— insisted to have him tell him where the women lived, & said he would soon tell whether they were in good standing in the Church or not.— refused to tell the names of any women, but went onto tell of a young woman he knew— at the east, who joined the church and came [p. [1]]