Discourse, 11 June 1843–A, as Reported by Eliza R. Snow
Source Note

JS, Discourse, , Hancock Co., IL, 11 June 1843; in Eliza R. Snow, Journal, pp. [34]–[35]; handwriting of ; CHL.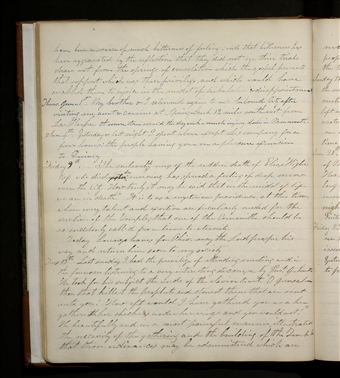 Tues 13
th
Last sunday I had the privilege of attending meeting and in the forenoon listening to a very interesting discourse by Pres
t.
J. Smith He took for his subject the words of the Savior to wit. "O Jerusalem thou that killest the prophets and stonest them that are sent unto you! How oft would I have gathered you as a hen gathereth her chickens under her wings and you would not!" He beautifully and in a most powerful manner, illustrated the necessity of the
gathering
and the building of the that those ordinances may be administered which are [p. [34]]
Tues 13th Last sunday I had the privilege of attending meeting and in the forenoon listening to a very interesting discourse by Prest. J. Smith He took for his subject the words of the Savior to wit. "O Jerusalem thou that killest the prophets and stonest them that are sent unto you! How oft would I have gathered you as a hen gathereth her chickens under her wings and you would not!" He beautifully and in a most powerful manner, illustrated the necessity of the
gathering
and the building of the that those ordinances may be administered which are [p. [34]]