Home

>
Discourse, 26 May 1844, as Compiled by Leo Hawkins
Source Note

JS, Discourse, , Hancock Co., IL, 26 May 1844; handwriting of with insertions by and Jonathan Grimshaw; dockets in handwriting of Robert L. Campbell and Jonathan Grimshaw; nine pages; JS Collection, CHL.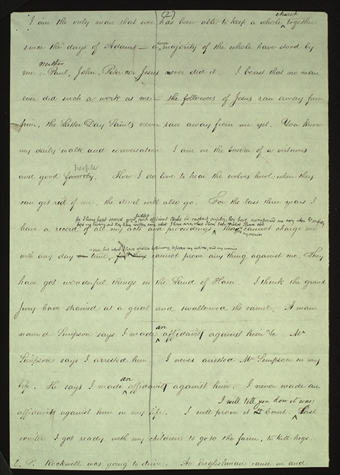 I am the only man that ever has been able to keep a whole <​church​> together since the days of Adam
s
— a <​large​> majority of the whole have stood by me:— <​neither​> Paul, John, Peter <​n​>or Jesus
n
ever did it. I boast that no man ever did such a work as me— the followers of Jesus ran away from him, the Latter Day Saints never ran away from me yet. You know my daily walk and conversation. I am in the bosom of a virtuous and good
family
<​people​>. How I do love to hear the wolves howl: when they can get rid of me, the devil will also go. For the last three years I have a record of all my acts and proceedings <​for I have kept several good <​faithful​> and efficient Clerks in constant employ, they have accompanied me every where & carefully kept my history, and they have written down what I have done, where I have been & what I have said​>.
they
<​therefore my enemies​> cannot charge me with any day
or
time <​or place but what I have written testimony, to prove my actions, and my enemies​>—
for
<​&​>
they
cannot prove any thing against me. They have got wonderful things in the Land of Ham. I think the grand Jury have strained at a gnat and swallowed the camel. A man named says I made <​an​> affidavit
s
against him &c says I arrested him. I never arrested in my life. He says I made <​an​> affidavit
s
against him. I never made an affidavit
s
against him in my life. I will prove it
at
<​in​> Court. <​I will tell you how it was:​> last winter I got ready with my children to go to the , to kill hogs. was going to drive. An Englishman came in and [p. [2]]
I am the only man that ever has been able to keep a whole church together since the days of Adam— a large majority of the whole have stood by me:— neither Paul, John, Peter nor Jesus ever did it. I boast that no man ever did such a work as me— the followers of Jesus ran away from him, the Latter Day Saints never ran away from me yet. You know my daily walk and conversation. I am in the bosom of a virtuous and good people. How I do love to hear the wolves howl: when they can get rid of me, the devil will also go. For the last three years I have a record of all my acts and proceedings for I have kept several good faithful and efficient Clerks in constant employ, they have accompanied me every where & carefully kept my history, and they have written down what I have done, where I have been & what I have said. therefore my enemies cannot charge me with any day time or place but what I have written testimony, to prove my actions, and my enemies— cannot prove any thing against me. They have got wonderful things in the Land of Ham. I think the grand Jury have strained at a gnat and swallowed the camel. A man named says I made an affidavit against him &c says I arrested him. I never arrested in my life. He says I made an affidavit against him. I never made an affidavit against him in my life. I will prove it in Court. I will tell you how it was: last winter I got ready with my children to go to the , to kill hogs. was going to drive. An Englishman came in and [p. [2]]