Discourse, between circa 26 June and circa 4 August 1839–A, as Reported by Willard Richards
Source Note

JS, Discourse, , IL, between ca. 26 June and ca. 4 Aug. 1839; in Willard Richards Pocket Companion, pp. 63–73; handwriting of ; Willard Richards, Journals, CHL.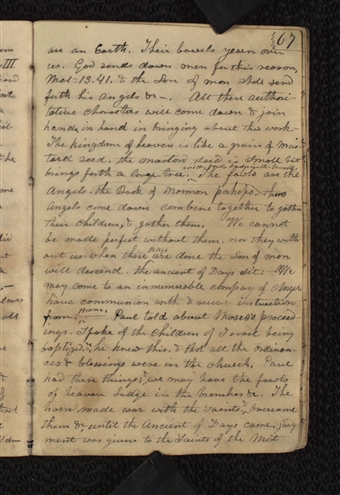 are on Earth. Their bowels yearn over us. God sends down men for this reason, Mat. 13.41. & the Son of man shall send forth his angels &c— All these authoritative characters will come down & join hand
s
in hand in bringing about this work— The kingdom of heaven is like a grain of mustard seed. the mustard seed is Small but brings forth a large tree. <​and the fowls lodge in the branches​> The fowls are the Angels. the Book of Mormon perhaps.
these
thus Angels come down combine together to gather their children, & gather them. We cannot be made perfect without them. nor they without us when these <​things​> are done the Son of man will descend. the ancient of Days sit.— We may come to an innumerable compa[n]y of Angels have communion with & rece[i]ve instruction from. <​them.​>— Paul told about Moses's proceedings. Spoke of the Children of Israel being . &, he knew this. & that all the & blessings were in the church. Paul had these things; <​&​> we may have the fowls of heaven Lodge in the branches &c. The horn made war with the saints, <​&​> overcame them &c, until the Ancient of Days came, judgment was given to the Saints of the Most [p. 67]
are on Earth. Their bowels yearn over us. God sends down men for this reason, Mat. 13.41. & the Son of man shall send forth his angels &c— All these authoritative characters will come down & join hand in hand in bringing about this work— The kingdom of heaven is like a grain of mustard seed. the mustard seed is Small but brings forth a large tree. and the fowls lodge in the branches The fowls are the Angels. the Book of Mormon perhaps. thus Angels come down combine together to gather their children, & gather them. We cannot be made perfect without them. nor they without us when these things are done the Son of man will descend. the ancient of Days sit.— We may come to an innumerable company of Angels have communion with & receive instruction from. them.— Paul told about Moses's proceedings. Spoke of the Children of Israel being . &, he knew this. & that all the & blessings were in the church. Paul had these things; & we may have the fowls of heaven Lodge in the branches &c. The horn made war with the saints, & overcame them &c, until the Ancient of Days came, judgment was given to the Saints of the Most [p. 67]