Home

>
Docket Entry, Alias Fieri Facias, circa 23 April 1843 [Sweeney v. Miller et al.]
Source Note

Docket Entry, Alias Fieri Facias, [, Hancock Co., IL], ca. 23 Apr. 1843,

Sweeney v. Miller et al.

(Hancock Co., IL, Circuit Court 1842); Hancock County Circuit Court, Execution Docket, vol. B, p. [53]; handwriting of M. Avise and David E. Head; Hancock County Courthouse, Carthage, IL; image in Hancock County Papers, 1830–1872, CHL.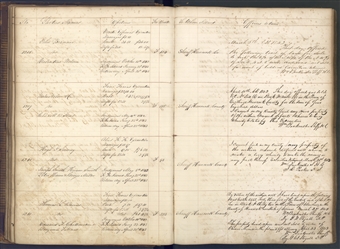 [No.]
[Parties Names]
[Epitome]
[Fee Book]
[To Whom Issued]
[Officers return]
[. . .]
Execution
I cannot find in my any property of the within named defendants whereon to make a levy whereby to make the money or any part thereof Returned March 31

st

1843 S D. S
Hugh J Sween[e]y
Damages $58.97
Costs 17.25 $76.22
Defts fee Bill 3.93¾
1210
vs
F 93
Sheriff
Joseph Smith,
Judgment May 5

th

1842
&
Fi. Fa. Issued Jan

y

23

rd

1843
Return day April 23

rd

1843
[p. [53]]
No.
[Parties Names]
[Epitome]
[Fee Book]
[To Whom Issued]
[Officers return]
[. . .]
Execution
I cannot find in my any property of the within named defendants whereon to make a levy whereby to make the money or any part thereof Returned March 31

st

1843 S D. S
Hugh J Sweeney
Damages $58.97
Costs 17.25 $76.22
Defts fee Bill 3.93¾
1210
vs
F 93
Sheriff
Joseph Smith,
Judgment May 5th 1842
&
Fi. Fa. Issued Jany 23rd 1843
Return day April 23rd 1843
[p. [53]]