Docket Entry, between 13 April and 3 June 1837 [State of Ohio v. JS]
Source Note

Docket Entry, , Geauga Co., OH, between 13 Apr. and 3 June 1837,

State of OH v. JS

(Geauga Co., OH, Court of Common Pleas 1837). Copied [ca. 10 June 1837] in Transcript of Proceedings, Geauga County Court of Common Pleas, Common Pleas Record, vol. T, p. 53; handwriting of Charles H. Foot; Geauga County Archives and Records Center, Chardon, OH. Includes seal.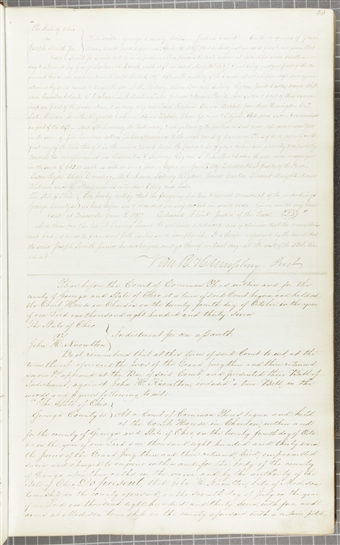 The State of )
vs)
Joseph Smith Jr.)
, Geauga County, Ohio.— Justices Court— On the complaint of made before me, April 13
th.
1837, that he had just cause to fear & did fear, that Joseph Smith Jr. would kill him or procure other persons to do it, warrant issued for said Smith same day & returned by George Lockwood Const. with deft. in court May 30
th.
1837 & not being ready on part of the defendant this cause was continued until June 3
d.
1837, deft in the custody of the Const. at which time deft was again returned by said const. & , , , , , , Quartus Clark, , S[olomon] W. Denton, & were sworn & part of them examined on part of the , & , Lora [Lory] Holmes, , Jonathan Herrington, , , , Abner Balster [Bolster], & were sworn & examined on part of the deft— And after hearing the testimony & allegations of the parties in said case, deft. was recognized in the sum of five hundred dollars for his appearance to the next court of Common Pleas of said on the first day of the term thereof & in the mean time to keep the peace & be of good behaviour generally & especially towards the in this suit— & , S. W. Denton & were recognized in the sum of $50.00 each as wit[nesse]s. in said case—Before me June 3
d
1837. Edward Flint Justice of the Peace. , , , , , , , were in attendance as witnesses 1
[s]t
day made Sat[isfaction]—
The State of Ohio)
ss.)
I do hereby certify that the foregoing is a true & correct transcript of the proceedings as had before me & recorded on my docket in said case. Given under my hand & seal at June 3
d.
1837. Edward Flint Justice of the Peace L.S. [p. 53]
The State of )
vs)
Joseph Smith Jr.)
, Geauga County, Ohio.— Justices Court— On the complaint of made before me, April 13th. 1837, that he had just cause to fear & did fear, that Joseph Smith Jr. would kill him or procure other persons to do it, warrant issued for said Smith same day & returned by George Lockwood Const. with deft. in court May 30th. 1837 & not being ready on part of the defendant this cause was continued until June 3d. 1837, deft in the custody of the Const. at which time deft was again returned by said const. & , , , , , , Quartus Clark, , Solomon W. Denton, & were sworn & part of them examined on part of the , & , Lora [Lory] Holmes, , Jonathan Herrington, , , , Abner Balster [Bolster], & were sworn & examined on part of the deft— And after hearing the testimony & allegations of the parties in said case, deft. was recognized in the sum of five hundred dollars for his appearance to the next court of Common Pleas of said on the first day of the term thereof & in the mean time to keep the peace & be of good behaviour generally & especially towards the in this suit— & , S. W. Denton & were recognized in the sum of $50.00 each as witnesses. in said case—Before me June 3d 1837. Edward Flint Justice of the Peace. , , , , , , , were in attendance as witnesses 1st day made Satisfaction—
The State of Ohio)
ss.)
I do hereby certify that the foregoing is a true & correct transcript of the proceedings as had before me & recorded on my docket in said case. Given under my hand & seal at June 3d. 1837. Edward Flint Justice of the Peace L.S. [p. 53]