Home

>
Docket Entry, Fieri Facias, between 11 September and circa 9 December 1844 [F. M. Higbee v. JS–A]
Source Note

Docket Entry, Fieri Facias, [, Hancock Co., IL], between 11 Sept. and ca. 9 Dec. 1844,

F. M. Higbee v. JS–A

(Hancock Co., IL, Circuit Court 1844); Hancock County Circuit Court, Execution Docket, vol. B, p. [164]; handwriting of ; Hancock County Courthouse, Carthage, IL; image in Hancock County Papers, 1830–1872, CHL. Includes notation by unidentified scribe, [, Hancock Co., IL], 15 Apr. 1845.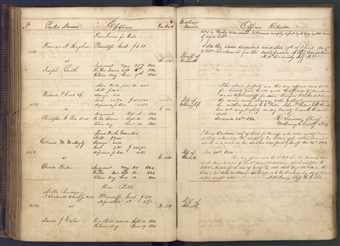 N

o

Parties Names
Epitome
Fee Book
To whom Issued
Officers Return
for Costs
Lot 3 in Block 9 Wells addition to excepting 14 feet by 16 lying in NW corner of said lot Sold the above discribed tract this 15

th

of April 1845, to for the satisfaction of this Shff
1651
s Cost $6.50
vs
Judgment May 23

rd

1844
G 311
of
Joseph Smith
Fi Fa [fieri facias] Issued Sept 11

th

1844.
Return date Decr. 9

th

1844
[p. [164]]
No
Parties Names
Epitome
Fee Book
To whom Issued
Officers Return
for Costs
Lot 3 in Block 9 Wells addition to excepting 14 feet by 16 lying in NW corner of said lot Sold the above discribed tract this 15th of April 1845, to for the satisfaction of this Shff
1651
s Cost $6.50
vs
Judgment May 23

rd

1844
G 311
of
Joseph Smith
Fi Fa fieri facias Issued Sept 11th 1844.
Return date Decr. 9th 1844
[p. [164]]