Home

>
Docket Entry, Fieri Facias, between 16 August and circa 9 October 1844 [Niswanger v. Wight and Jett]
Source Note

Docket Entry, , [, Hancock Co., IL], between 16 Aug. and ca. 9 Oct. 1844,

Niswanger v. Wight and Jett

(Hancock Co., IL, Circuit Court 1844); Hancock County Circuit Court, Docket, vol. B, p. [157]; unidentified handwriting; Hancock County Courthouse, Carthage, IL; image in Hancock County Papers, 1830–1872, CHL.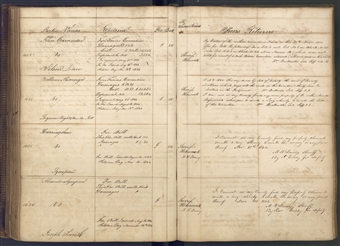 [Parties Names]
[Epitome]
[Fee Book]
[To Whom Issued]
[Officers Returns]
[. . .]
William Niswanger
Oct 9. 1844 This day made by Sale of property the sum of Seventy Dollars which pays all the costs on this Execution & Thirty nine 19/100 Dollars on the Judgement Late Shff I can not in my find any more property of the within Named Defendants whereupon to make a Levy whereby to make the ballance of this Execution Late Shff
Damages $74.98
Cost 10.87

$85.82½

<​$85.85½​>
Defendants Fee Bill 13.56¼
1624
vs
Judgment May 23

d

1844
G 291
Issued August 16, 1844
Return Day Nov 15

th

1844
& Hamilton Jett
[p. [157]]
Parties Names
[Epitome]
[Fee Book]
[To Whom Issued]
[Officers Returns]
[. . .]
William Niswanger
Oct 9. 1844 This day made by Sale of property the sum of Seventy Dollars which pays all the costs on this Execution & Thirty nine 19/100 Dollars on the Judgement Late Shff I can not in my find any more property of the within Named Defendants whereupon to make a Levy whereby to make the ballance of this Execution Late Shff
Damages $74.98
Cost 10.87 $85.85½
Defendants Fee Bill 13.56¼
1624
vs
Judgment May 23d 1844
G 291
Issued August 16, 1844
Return Day Nov 15th 1844
& Hamilton Jett
[p. [157]]