Grammar and Alphabet of the Egyptian Language, circa July–circa November 1835
Source Note

Grammar and Alphabet of the Egyptian Language, [, OH, ca. July–ca. Nov. 1835]; handwriting of and ; 34 pages; Kirtland Egyptian Papers, CHL.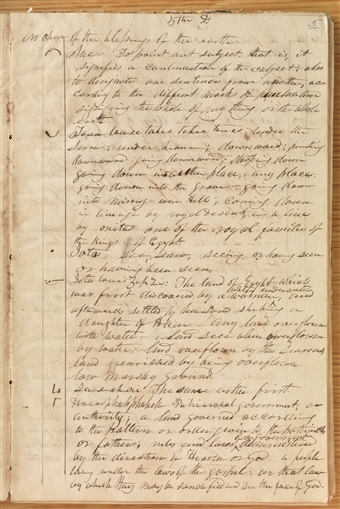 5th D
No
Char
of the blessings of the earth.

✦

She= To point out subject— that is, it signifies a combinnation of the subject: also to designate one sentence from another, according to the differnt marks of punctuation signifying the whole of any thing or the whole earth

✦

Toan low ee tahee takee toues: under the Sun: under heaven; downward; pointing downward going downward; stooping down going down in<​to​> another place,= any place: going down into the grave— going down into misery= even Hell; coming down in lineage by royal descent, in a line by onitas one of the royal families of the Kings

the

of Egypt.

✦

Iota See, saw, seeing, or having seen or having been seen.

✦

Iota toues Zip Zis: The land of Egypt which was first discovered by a woman <​wh[i]le underwater​>, and afterwards settled by her Sons she being a daughter of Ham— any land over flown with water— a land seen when overflown by water:— land overflown by the seasons, land

by

enriched by being overflown low marshy ground.

✦

Su-e-eh-ni The same as the first.

✦

Hoeoophahphaheh Patriarchal government; or authority; a land governed according to the pattern or order given to the patriarchs or fathers; rules and laws <​of a goverment​> administered by the direction of Heaven or God. a people living under the law<​s​> of the gospel: or that law by which they may be sanctified and see the face of God.
[p. 5]
5th D
| | | |
| --- | --- | --- |
| No | Char | |
| | | of the blessings of the earth. |
| | ✦ | She= To point out subject— that is, it signifies a combinnation of the subject: also to designate one sentence from another, according to the differnt marks of punctuation signifying the whole of any thing or the whole earth |
| | ✦ | Toan low ee tahee takee toues: under the Sun: under heaven; downward; pointing downward going downward; stooping down going down into another place,= any place: going down into the grave— going down into misery= even Hell; coming down in lineage by royal descent, in a line by onitas one of the royal families of the Kings of Egypt. |
| | ✦ | Iota See, saw, seeing, or having seen or having been seen. |
| | ✦ | Iota toues Zip Zis: The land of Egypt which was first discovered by a woman while underwater, and afterwards settled by her Sons she being a daughter of Ham— any land over flown with water— a land seen when overflown by water:— land overflown by the seasons, land enriched by being overflown low marshy ground. |
| | ✦ | Su-e-eh-ni The same as the first. |
| | ✦ | Hoeoophahphaheh Patriarchal government; or authority; a land governed according to the pattern or order given to the patriarchs or fathers; rules and laws of a goverment administered by the direction of Heaven or God. a people living under the laws of the gospel: or that law by which they may be sanctified and see the face of God. |
[p. 5]