Home

>
John Taylor, Martyrdom Account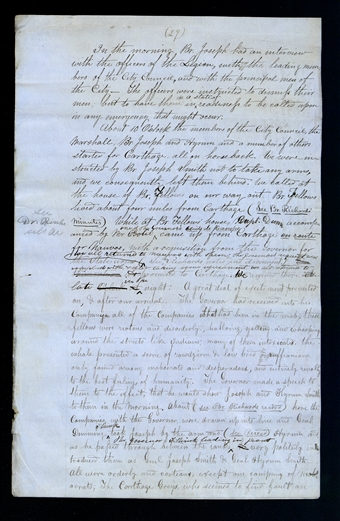 In the morning Br. Joseph had an interview with the officers of the , with the leading members of the City Council, and with the principal men of the — The officers were instructed to dismiss their men; but to have them in <​
in
a state of​> readiness to be called upon in any emergency that might occur.
About 10 O'clock the members of the City Council, the , Br. Joseph and and a number of others started for , all on horseback. We were instructed by Br. Joseph Smith not to take any arms, and we consequently left them behind. We called at the house of Br. [Albert G.] Fellows on our way out. Br. Fellows lived about four miles from (
See
'
Minutes
) <​see Ac​> While at Br. Fellows' house, <​​> accompanied by Mr. Cooke <​one of the 's
Aid
de
Camps
​> came up from
en
route
for , with a requisition from the for the State arms (See notes and document.)
On their return
we
<​we all returned to with them; the 's request was complied with, & after taking some refreshment, we all returned to​> <​&​> proceeded to .
and
We arrived there
at
late
O'clock
at
<​in the​> night. A great deal of excitement prevailed on, & after our arrival. The had received into his
companies
<​Company​> all of the Companies
what
<​that​> had been in the mob, these fellows were riotous and disorderly, halloing, yelling and whooping around the streets like Indians; many of them intoxicated; the whole presented a scene of rowdyism & low bred ruffianism only found among mobocrats and desperadoes, and entirely revolting to the best feelings of humanity. The made a speech to them to the effect, that he would show Joseph and to them in the Morning. About (see
record
) here the Companies with the , were drawn up into line and <​I think​> took Joseph by the arm and (
See
Record
) and as he passed through between the ranks, <​the I think leading in front​>
he
very politely in
tr
troduced them as Genl. Joseph Smith & Genl. . All were orderly and corteous, except one company of Mobocrats; The Carthage Greys, who seemed to find fault on [p. 29]
In the morning Br. Joseph had an interview with the officers of the , with the leading members of the City Council, and with the principal men of the — The officers were instructed to dismiss their men; but to have them in a state of readiness to be called upon in any emergency that might occur.
About 10 O'clock the members of the City Council, the , Br. Joseph and and a number of others started for , all on horseback. We were instructed by Br. Joseph Smith not to take any arms, and we consequently left them behind. We called at the house of Br. Albert G. Fellows on our way out. Br. Fellows lived about four miles from (
See
'
Minutes
) see Ac While at Br. Fellows' house, accompanied by Mr. Cooke one of the 's
Aid
de
Camps
came up from
en
route
for , with a requisition from the for the State arms (See notes and document.) we all returned to with them; the 's request was complied with, & after taking some refreshment, we all returned to & proceeded to . We arrived there late in the night. A great deal of excitement prevailed on, & after our arrival. The had received into his Company all of the Companies that had been in the mob, these fellows were riotous and disorderly, halloing, yelling and whooping around the streets like Indians; many of them intoxicated; the whole presented a scene of rowdyism & low bred ruffianism only found among mobocrats and desperadoes, and entirely revolting to the best feelings of humanity. The made a speech to them to the effect, that he would show Joseph and to them in the Morning. About (see
record
) here the Companies with the , were drawn up into line and I think took Joseph by the arm and (
See
Record
) and as he passed through between the ranks, the I think leading in front very politely introduced them as Genl. Joseph Smith & Genl. . All were orderly and corteous, except one company of Mobocrats; The Carthage Greys, who seemed to find fault on [p. 29]