Home

>
Letter from Eli Maginn, 22 March 1842
Source Note

, Letter, , Essex Co., MA, to JS, [, Hancock Co., IL], 22 Mar. 1842; included enclosures (not extant). Featured version published in

Times and Seasons,

2 May 1842, vol. 3, no. 13, 778–779

. For more complete source information, see the source note for

Letter to Isaac Galland, 22 Mar. 1839

.

Historical Introduction

On 22 March 1842 member wrote a letter from , Massachusetts, to JS in , Illinois, in which he reported on missionary labors and the growth of church in New England. in , Upper Canada, Maginn was later a in early 1839 in , Missouri. Later that year he departed on a lengthy proselytizing mission. During his mission, as reported in his letter, he visited "eighteen States and British Provinces." By July 1841 Maginn arrived in , New Hampshire, a small township that he apparently used as a base of operations while preaching in various communities in New England. According to a local history, Maginn was "a lively, fascinating speaker with a wide knowledge of the Bible which he continually quoted. . . . Maginn, partly by his message and partly by his own magnetic personality, attracted people from far and near to his meetings in Peterborough." While he apparently baptized dozens of local residents in Peterborough, Maginn—along with other Latter-day Saint preachers, such as —also encountered resistance from some local clergymen and residents in and New Hampshire.

During his time in New England, apparently presided over, or at least kept careful watch over, several branches of the church in New Hampshire and . He also traveled on occasion to and , Massachusetts—both located approximately sixty miles southeast of Peterborough—to aid other Latter-day Saint missionaries laboring in those areas. For example, Maginn traveled to Salem to preach with in mid-November 1841; Snow reciprocated by preaching in in mid-January 1842.

On 20 March 1842 again journeyed to , where, two days later, he wrote the featured letter to JS. In this missive, Maginn forwarded the names of newspaper subscribers and twenty-four dollars of subscription money for the

Times and Seasons,

as well as twenty dollars' worth of donations earmarked for the construction of the . He also informed JS of the success of recent missionary endeavors in New England and offered a brief report on the number of converts organized into local branches. The original letter is not extant, but an abridged copy was published several weeks later in the

2 May 1842 issue

of the

Times and Seasons.

In that issue, the editor prefaced the letter by indicating that the subscription money and donations had been received.

Footnotes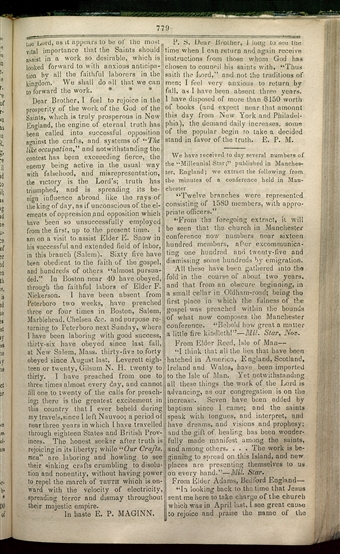 , as it appears to be of the most vital importance that the Saints should assist in a work so desirable, which is looked forward to with anxious anticipation by all the faithful laborers in the kingdom. We shall do all that we can to forward the work. * * *
Dear Brother, I feel to rejoice in the prosperity of the work of the God of the Saints, which is truly prosperous in New England, the engine of eternal truth has been called into successful opposition against the crafts, and systems of "
The like occupation
," and notwithstanding the contest has been exceeeding fierce, the enemy being active in the usual way with falsehood, and misrepresentation, the victory is the Lord's; truth has triumphed, and is spreading its benign influence abroad like the rays of the king of day, as if unconscious of the elements of oppression and opposition which have been so unsuccesssfully employed from the first, up to the present time. I am on a visit to assist in his successful and extended field of labor, in this (). Sixty five have been obedient to the faith of the gospel, and hundreds of others "almost pursuaded." In near 40 have obeyed, through the faithful labors of Elder . I have been absent from two weeks, have preached three or four times in , , Marblehead, Chelsea &c. And purpose returning to next Sunday, where I have been laboring with good success, thirty-six have obeyed since last fall, at New Salem, Mass. thirty-five to forty obeyed since August last, Leverett eighteen or twenty, Gilsum N. H. twenty to thirty. I have preached from one to three times almost every day, and cannot fill one to twenty of the calls for preaching; there is the greatest excitement in this country that I ever beheld during my travels, since I left ; a period of near three years in which I have travelled through eighteen States and British Provinces. The honest seeker after truth is rejoicing in its liberty; while "
Our Craftsmen
" are laboring and howling to see their sinking crafts crumbling to disolution and nonentity, without having power to repel the march of
truth
which is onward with the velocity of electricity, spreading terror and dismay throughout their majestic empire.
In haste .
P. S. Dear Brother, I long to see the time when I can return and again receive instructions from those whom God has chosen to council his saints with, "Thus saith the Lord," and not the traditions of men; I feel very anxious to return by fall, as I have been absent three years. I have disposed of more than $150 worth of books (and expect near that amount this day from and ), the demand daily increases, some of the popular begin to take a decided stand in favor of the truth. [p. 779]
, as it appears to be of the most vital importance that the Saints should assist in a work so desirable, which is looked forward to with anxious anticipation by all the faithful laborers in the kingdom. We shall do all that we can to forward the work. * * *
Dear Brother, I feel to rejoice in the prosperity of the work of the God of the Saints, which is truly prosperous in New England, the engine of eternal truth has been called into successful opposition against the crafts, and systems of "
The like occupation
," and notwithstanding the contest has been exceeeding fierce, the enemy being active in the usual way with falsehood, and misrepresentation, the victory is the Lord's; truth has triumphed, and is spreading its benign influence abroad like the rays of the king of day, as if unconscious of the elements of oppression and opposition which have been so unsuccesssfully employed from the first, up to the present time. I am on a visit to assist in his successful and extended field of labor, in this (). Sixty five have been obedient to the faith of the gospel, and hundreds of others "almost pursuaded." In near 40 have obeyed, through the faithful labors of Elder . I have been absent from two weeks, have preached three or four times in , , Marblehead, Chelsea &c. And purpose returning to next Sunday, where I have been laboring with good success, thirty-six have obeyed since last fall, at New Salem, Mass. thirty-five to forty obeyed since August last, Leverett eighteen or twenty, Gilsum N. H. twenty to thirty. I have preached from one to three times almost every day, and cannot fill one to twenty of the calls for preaching; there is the greatest excitement in this country that I ever beheld during my travels, since I left ; a period of near three years in which I have travelled through eighteen States and British Provinces. The honest seeker after truth is rejoicing in its liberty; while "
Our Craftsmen
" are laboring and howling to see their sinking crafts crumbling to disolution and nonentity, without having power to repel the march of
truth
which is onward with the velocity of electricity, spreading terror and dismay throughout their majestic empire.
In haste .
P. S. Dear Brother, I long to see the time when I can return and again receive instructions from those whom God has chosen to council his saints with, "Thus saith the Lord," and not the traditions of men; I feel very anxious to return by fall, as I have been absent three years. I have disposed of more than $150 worth of books (and expect near that amount this day from and ), the demand daily increases, some of the popular begin to take a decided stand in favor of the truth. [p. 779]