Home

>
Letter from Elias Higbee, 22 February 1840
Source Note

, Letter, , to JS, [, Hancock Co., IL?], 22 Feb. 1840. Featured version copied [between Apr. and June 1840] in

JS Letterbook 2, pp. 111–115

; handwriting of ; JS Collection, CHL. For more complete source information, see the source note for

JS Letterbook 2

.

Historical Introduction

On 22 February 1840, wrote a letter to JS from , the fourth in a series of seven extant letters written to inform JS of the proceedings of the Senate Committee on the Judiciary, which was considering the 's

memorial

. In this letter, Higbee continued to recount the testimonies given to the committee by Senator and Representative of (both of whom had also testified on 21 February), as well as that of a Mr. Corwin, whom Higbee described in this letter as a former newspaper editor from . Higbee responded to Linn's and Jameson's respective testimonies—which depicted church members and JS negatively—and suggested that the church prepare several men to travel to Washington as witnesses if the committee decided that the church's memorial should be considered in an additional investigation.

presumably sent this letter by post to , Illinois, and JS presumably received it after he returned to Commerce by 29 February 1840. The original letter is not extant. copied the version featured here into

JS Letterbook 2

sometime between April and June 1840.

Footnotes

1

See Historical Introduction to Letter from Elias Higbee, 20 Feb. 1840–A.  

2

John Smith, Journal, 1836–1840, 29 Feb. 1840, [58].  

Smith, John (1781-1854). Journal, 1833–1841. John Smith, Papers, 1833-1854. CHL. MS 1326, box 1, fd. 1.

3

Coray, Autobiographical Sketch, 17, 19.  

Coray, Howard. Autobiographical Sketch, after 1883. Howard Coray, Papers, ca. 1840–1941. Photocopy. CHL. MS 2043, fd. 1.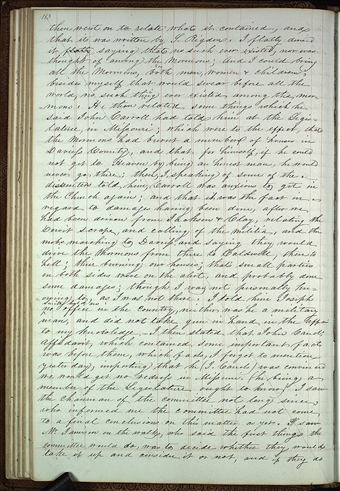 then went on to relate what it contained, and that it was written by . I flatly denied it
flatly
saying that no such ever existed, nor was thought of among the Mormons; And I could bring all the Mormons, both men, women & children; besides myself that would swear before all the world, no such thing ever existed among the mormons. He then related some things which he said had told him at the Legislature, in ; which were to the effect, that the Mormons had burnt a number of houses in , and that for himself, if he could not get to Heaven by being an honest man, he would never go there; then, I, speaking of some of the— dissenters told him, was anxious to get in the again; and that it was the fact in— regard to damages having been done, after we had been driven from & , relating the Scrape, and calling of the militia, and the mob's marching to , and saying they would drive the Mormons from there to , then to hell; their burning our houses; that small parties on both sides were on the alert, and probably done some damages; though I was not personally knowing to as I was not there. I told him Joseph <​Smith held no​> no office in the country, neither was he a military man, and did not take gun in hand in the affair to my knowledge— I then stated that 's affidavit, which contained some important facts was before them, which facts, I forgot to mention yesterday, importing that he () was convinced we would get no redress in , (he being a member of the Legislature ought to know) I saw the chairman of the committee not long since, who informed me the committee had not come to a final conclusion on this matter as yet. I saw on the walk, who said the first things the committee would do, was to decide whether they would take it up and consider it or not, and if they do [p. 113]
then went on to relate what it contained, and that it was written by . I flatly denied it saying that no such ever existed, nor was thought of among the Mormons; And I could bring all the Mormons, both men, women & children; besides myself that would swear before all the world, no such thing ever existed among the mormons. He then related some things which he said had told him at the Legislature, in ; which were to the effect, that the Mormons had burnt a number of houses in , and that for himself, if he could not get to Heaven by being an honest man, he would never go there; then, I, speaking of some of the— dissenters told him, was anxious to get in the again; and that it was the fact in— regard to damages having been done, after we had been driven from & , relating the Scrape, and calling of the militia, and the mob's marching to , and saying they would drive the Mormons from there to , then to hell; their burning our houses; that small parties on both sides were on the alert, and probably done some damages; though I was not personally knowing to as I was not there. I told him Joseph Smith held no no office in the country, neither was he a military man, and did not take gun in hand in the affair to my knowledge— I then stated that 's affidavit, which contained some important facts was before them, which facts, I forgot to mention yesterday, importing that he () was convinced we would get no redress in , (he being a member of the Legislature ought to know) I saw the chairman of the committee not long since, who informed me the committee had not come to a final conclusion on this matter as yet. I saw on the walk, who said the first things the committee would do, was to decide whether they would take it up and consider it or not, and if they do [p. 113]