Home

>
Letter from Harvey Whitlock, 28 September 1835
Source Note

, Letter, unidentified place, to JS, [, Geauga Co., OH], 28 Sept. 1835. Featured version copied [between ca. 16 Nov. and Dec. 1835] in

JS, Journal, 1835–1836, pp. 38–41

; handwriting of and ; JS Collection, CHL. For more complete source information, see the source note for

JS, Journal, 1835–1836

.

Historical Introduction

On 28 September 1835, wrote this letter to JS from an unspecified location. In the letter, he indicated his sorrow for falling away from the church and asked for a revelation indicating God's will for him. Whitlock had been sometime prior to June 1831, when he was to the in . He moved to sometime before 23 January 1832. When non-Mormon residents of , Missouri, demanded in July 1833 that the Saints depart the county, Whitlock was one of several church leaders who pledged to vacate by 1 January 1834. In September 1833, he participated in a council held in Jackson County, but he then disappears from extant records. He likely experienced the fall 1833 violence that drove church members from Jackson County, but it is not clear where he went thereafter. According to a later account, Whitlock was apparently still in Missouri when the came to in summer 1834 and perhaps was still in good standing with the church at that time. However, at some point before September 1835, he was cut off from the church; extant records are silent as to why. Whitlock's letter indicates that he had long wanted to reconcile with JS and the church but had been prevented from doing so by his "many vices."

After receiving 's letter, JS read it twice and "could not refrain from weeping" because of Whitlock's repentant spirit. On 16 November 1835, JS

replied

to the letter, including in his reply a revelation declaring that God would forgive Whitlock for his sins and directing Whitlock to come to , Ohio. Whitlock apparently did so, and in January 1836, a of the church presidency in Kirtland resolved to allow Whitlock to be rebaptized, to accept him "in full fellowship," and to ordain him again to the office of high priest.

's original letter is not extant. and copied the letter into JS's

journal

, probably sometime around 16 November 1835.

Footnotes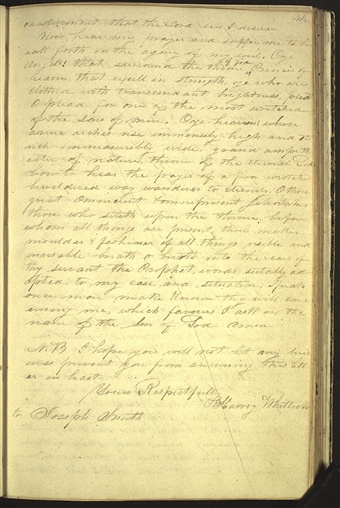 chastisement that the Lord sees I deserve.
Now hear my prayer and suffer me to break forth in the agony of my soul. O ye Angels! that surround the throne <​of God,​> Princes of heaven, that excell in strength, ye who are clothed with transcendant brightness, plead O plead for one of the most wretched of the sons of men. O ye heavens! whose azure arches rise immensely high and strech immeasurably wide, grand ampitheater of nature, throne of the eternal God bow to hear the prayer of a poor wretched bewildered way wanderer to eternity, O thou great Omnicient & omnipresent Jehovah, thou who siteth upon the throne before whom all things are present, thou maker moulder & fashioner of all things visible and invisable breath[e] o breath[e] into the ears of thy servant the Prophet, words sutably adapted, to my case, and situation, speak once more, make known thy will concerning me, which favours I ask in the name of the Son of God Amen
N.B I hope you will not let any buisiness prevent you from answering this letter in hast[e]
Yours Respectfully
to Joseph Smith [p. 41]
chastisement that the Lord sees I deserve.
Now hear my prayer and suffer me to break forth in the agony of my soul. O ye Angels! that surround the throne of God, Princes of heaven, that excell in strength, ye who are clothed with transcendant brightness, plead O plead for one of the most wretched of the sons of men. O ye heavens! whose azure arches rise immensely high and strech immeasurably wide, grand ampitheater of nature, throne of the eternal God bow to hear the prayer of a poor wretched bewildered way wanderer to eternity, O thou great Omnicient & omnipresent Jehovah, thou who siteth upon the throne before whom all things are present, thou maker moulder & fashioner of all things visible and invisable breathe o breathe into the ears of thy servant the Prophet, words sutably adapted, to my case, and situation, speak once more, make known thy will concerning me, which favours I ask in the name of the Son of God Amen
N.B I hope you will not let any buisiness prevent you from answering this letter in haste
Yours Respectfully
to Joseph Smith [p. 41]