Letter from Horace Hotchkiss, 13 September 1841
Source Note

, Letter, , CT, to JS, , IL, 13 Sept. 1841; handwriting of ; three pages; JS Collection, CHL.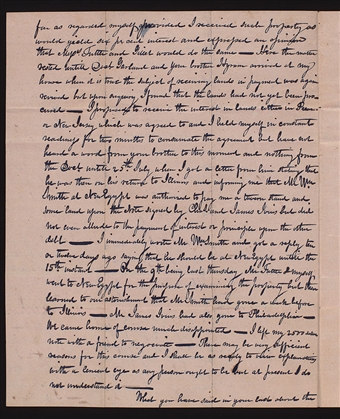 far as regarded myself provided I received such property as would yield six p
r.
cent interest and expressed an opinion that Mess
s.
and would do the same— Here the matter rested untill and Your brother arrived at my house when it is true the subject of receiving lands in payment was again revived but upon enquiry I found that the lands had not yet been procured— I proposed to receive the interest in lands either in or which was agreed to and I held myself in constant readiness for two months to consumate the agreement but have not heard a word from your to this moment and nothing from the until 25
th.
July when I got a letter from him stating that he was then on his return to and informing me that at New Egypt was authorised to pay me a tavern stand and some land upon the Note signed by and but did not even allude to the payment of interest or principle upon the other debt— I immediately wrote Mr and got a reply ten or twelve days ago saying that he should be at New Egypt untill the 15
th
instant— On the 9
th.
being last thursday & myself went to New Egypt for the purpose of examining the property but then learned to our astonishment that had gone a week before to — Mr had also gone to — We came home of course much disappointed— I left my 2500 dollar note with a friend to negociate— There may be very sufficient reasons for this course and I shall be as ready to view explanations with a lenient eye as any person ought to be but at present I do not understand it—
What you have said in your last about the [p. [2]]
far as regarded myself provided I received such property as would yield six pr. cent interest and expressed an opinion that Messs. and would do the same— Here the matter rested untill and Your brother arrived at my house when it is true the subject of receiving lands in payment was again revived but upon enquiry I found that the lands had not yet been procured— I proposed to receive the interest in lands either in or which was agreed to and I held myself in constant readiness for two months to consumate the agreement but have not heard a word from your to this moment and nothing from the until 25th. July when I got a letter from him stating that he was then on his return to and informing me that at New Egypt was authorised to pay me a tavern stand and some land upon the Note signed by and but did not even allude to the payment of interest or principle upon the other debt— I immediately wrote Mr and got a reply ten or twelve days ago saying that he should be at New Egypt untill the 15th instant— On the 9th. being last thursday & myself went to New Egypt for the purpose of examining the property but then learned to our astonishment that had gone a week before to — Mr had also gone to — We came home of course much disappointed— I left my 2500 dollar note with a friend to negociate— There may be very sufficient reasons for this course and I shall be as ready to view explanations with a lenient eye as any person ought to be but at present I do not understand it—
What you have said in your last about the [p. [2]]