Letter from Horace Hotchkiss, 30 December 1841
Source Note

, Letter, , CT, to JS, , IL, 30 Dec. 1841; handwriting of ; one page; JS Collection, CHL.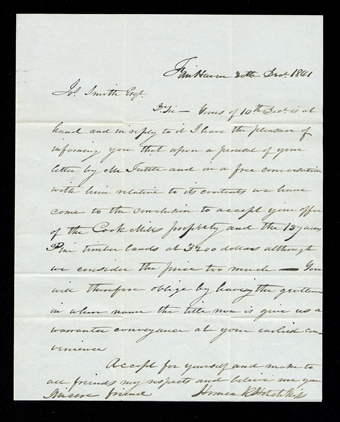 D
r.
Sir— Yours of 10
th.
Dec
r.
is at hand and in reply to it I have the pleasure of informing you that upon a perusal of your letter by and in a free conversation with him relative to its contents we have come to the conclusion to accept your offer of the Cook Mills proprety [property] and the 137 acres Pine timber lands at 3200 dollars although we consider the price too much— You will therefore oblige by having the gentlemen in whose name the title now is give us a warrantee conveyance at your earliest convenience
Accept for yourself and make to all friends my respects and believe me your Sincere friend
[p. [1]]
30th. Decr. 1841
Jos. Smith Esqr.
Dr. Sir— Yours of 10th. Decr. is at hand and in reply to it I have the pleasure of informing you that upon a perusal of your letter by and in a free conversation with him relative to its contents we have come to the conclusion to accept your offer of the Cook Mills proprety [property] and the 137 acres Pine timber lands at 3200 dollars although we consider the price too much— You will therefore oblige by having the gentlemen in whose name the title now is give us a warrantee conveyance at your earliest convenience
Accept for yourself and make to all friends my respects and believe me your Sincere friend
[p. [1]]