Home

>
Minutes, 16 September 1835
Source Note

Minutes, , Geauga Co., OH, 16 Sept. 1835. Featured version copied [not before 25 Feb. 1836] in

Minute Book 1, pp. 108–113

; handwriting of ; CHL. For more complete source information, see the source note for

Minute Book 1

.

Historical Introduction

On 13 September 1835, church leaders presented a newly purchased leather-bound volume to a gathering of church members for their inspection. During the course of that meeting, individuals were allowed to examine the book, and an elderly man identified as "Brother Aldridge," apparently Andrew Aldrich, complained that the price paid had been too expensive. Minutes from that meeting do not exist, but apparently JS and charged Aldrich with being under the influence of an evil spirit. The next day, Henry Green declared that JS's treatment of Aldrich indicated that the devil was in JS. In response, a met on 16 September 1835 to hear a complaint from JS against Green for the comments he had publicly aired against him.

Although JS normally presided as president of the high council, presided in this case to consider the charge made by JS. Members of the council testified concerning the original exchange between Aldrich and JS, as well as Green's subsequent critical comments against JS. The council found that JS had fulfilled his duty in rebuking Aldrich and that Green had been wrong to criticize JS. The minutes indicate that counselors were appointed to "speak on each side of the council," but no defense of Green is recorded. raised a concern on behalf of Green, but not until after judgment had been pronounced. Green was cut off from the church and instructed that rebaptism would be necessary to reenter. No immediate commentary on the fate of Aldrich is mentioned, but his obituary the following year stated that he was "in good standing with the church of Latter Day Saints and died in full faith of the everlasting gospel."

acted as clerk for the meeting and kept the minutes. later copied the minutes into

Minute Book 1

.

Footnotes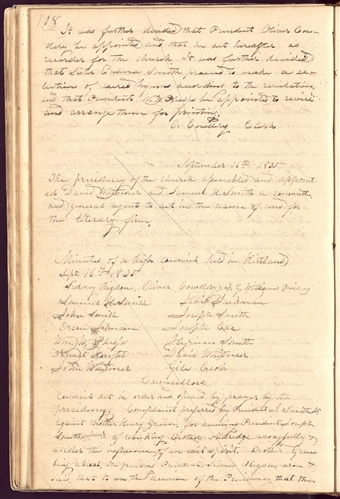 Minutes of a held in Sept. 16
th
1835
, , &
Counsellors.
Council sit in order and opened by prayer by the presidency. Complaint preferred by President J. Smith J
r.
against Brother Henry Green, for accusing President Joseph Smith
Jun

r
of rebuking Brother Aldridge [Andrew Aldrich] wrongfully & under the influence of an evil spirit. Brother Greene being absent, The presiding President, , arose & said, that it was the decision of the Presidency, that the [p. 108]
Minutes of a held in Sept. 16
th
1835
, , &
Counsellors.
Council sit in order and opened by prayer by the presidency. Complaint preferred by President J. Smith Jr. against Brother Henry Green, for accusing President Joseph Smith Jun
r
of rebuking Brother Aldridge [Andrew Aldrich] wrongfully & under the influence of an evil spirit. Brother Greene being absent, The presiding President, , arose & said, that it was the decision of the Presidency, that the [p. 108]