Home

>
Minutes, 17 February 1833
Source Note

Minutes, , Geauga Co., OH, 17 Feb. 1833. Featured version copied [ca. 17 Feb. 1833] in

Minute Book 1, p. 10

; handwriting of ; CHL. For more complete source information, see the source note for

Minute Book 1

.

Historical Introduction

On 17 February 1833, JS as an . JS apparently had a close relationship with Johnson and lived in his home from September 1831 to September 1832. While at Johnson's home, JS completed much of his revision of the Bible and, on 25 March 1832, was brutally by a mob. Johnson himself was injured accidently by another church member in the resulting confusion. Johnson moved from , Ohio, to , Ohio, in June 1833.

Footnotes

1

JS History, vol. A-1, 205–208.  

JS History / Smith, Joseph, et al. History, 1838–1856. Vols. A-1–F-1 (original), A-2–E-2 (fair copy). Historian's Office, History of the Church, 1839–ca. 1882. CHL. CR 100 102, boxes 1–7. The history for the period after 5 Aug. 1838 was composed after the death of Joseph Smith.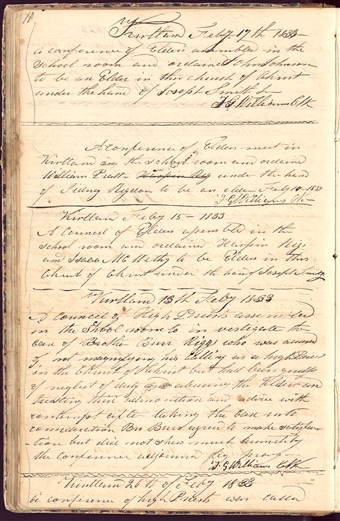 A of assembled in the school room and to be an Elder in this under the hand of Joseph Smith Jr
Clk [p. 10]
A of assembled in the school room and to be an Elder in this under the hand of Joseph Smith Jr
Clk [p. 10]