Minutes, 3 May 1844
Source Note

Council of Fifty, Minutes, , Hancock Co., IL, 3 May 1844; in Council of Fifty, "Record," pp. [217]–[228]; handwriting of ; CHL.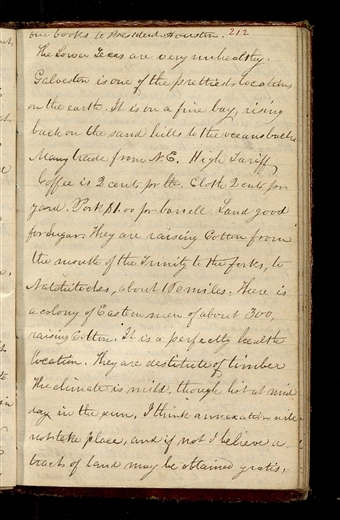 our books to .
The Lower are very unhealthy. is one of the prettiest locations on the earth. It is on a fine bay, rising back on the sand hills to the oceans back. Many trade from N.E. High Tarrif
Coffee is 2 cents pr lb. Cloth 2 cnts pr yard. Pork $1.00 pr barrell. Land good for Sugar. They are raising Cotton from the mouth of the Trinity to the forks, to Natchitoches, about 100 miles. There is a colony of Eastern men of about 300, raising Cotton. It is a perfectly health[y] location. They are destitute of timber The climate is mild, though hot at mid day in the sun. I think annexation will not take place, and if not I believe a tract of land may be obtained gratis, [p. [223]]
our books to .
The Lower are very unhealthy. is one of the prettiest locations on the earth. It is on a fine bay, rising back on the sand hills to the oceans back. Many trade from N.E. High Tarrif
Coffee is 2 cents pr lb. Cloth 2 cnts pr yard. Pork $1.00 pr barrell. Land good for Sugar. They are raising Cotton from the mouth of the Trinity to the forks, to Natchitoches, about 100 miles. There is a colony of Eastern men of about 300, raising Cotton. It is a perfectly healthy location. They are destitute of timber The climate is mild, though hot at mid day in the sun. I think annexation will not take place, and if not I believe a tract of land may be obtained gratis, [p. [223]]