Home

>
Minutes and Discourse, 13 March 1843
Source Note

Minutes, , Hancock Co., IL, 13 Mar. 1843; in Macedonia Branch, Record, 32–33; unidentified handwriting; CHL.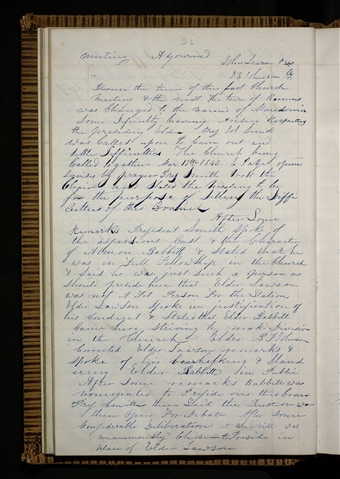 Btween the time of this past Church meeting & the next The town of was Changed to the named of Macedonia Some Dificulty having Arisen Respecting the presiding Elder Pres Jo
s

.
Smith was Called upon to Come out and settle Difficulties The Church being Called to gather Mar 13
th

.
1843 E[benezer] Page opened servise by prayer Pres Smith took the Chair and Stated the meeting to be for the purpose of Setling the Difficulties of this Branch
After Some Remarks President Smith spoke of the aspersions Cast & the Character of & stated that he was in Full Fellowship in the Church & said he was just such a person as should preside here that Elder [John] Lawson was not A Fit Person For the Station Elder Lawson spoke in justification of his Conduct & Stated that Came here striving to make Division in the Church Elder Corrected Elder Lawson remarks & spoke of his bacctalking & Slandering in Public
After some remarks was nominated to Preside over this branc[h] Pres Smith then Said the Question was then open For Debate After some Considerable Deliberation was unanimously Chosen to Preside in place of Elder Lawson [p. 32]
Btween the time of this past Church meeting & the next The town of was Changed to the named of Macedonia Some Dificulty having Arisen Respecting the presiding Elder Pres Jo
s
. Smith was Called upon to Come out and settle Difficulties The Church being Called to gather Mar 13
th
. 1843 Ebenezer Page opened servise by prayer Pres Smith took the Chair and Stated the meeting to be for the purpose of Setling the Difficulties of this Branch
After Some Remarks President Smith spoke of the aspersions Cast & the Character of & stated that he was in Full Fellowship in the Church & said he was just such a person as should preside here that Elder John Lawson was not A Fit Person For the Station Elder Lawson spoke in justification of his Conduct & Stated that Came here striving to make Division in the Church Elder Corrected Elder Lawson remarks & spoke of his bacctalking & Slandering in Public
After some remarks was nominated to Preside over this branch Pres Smith then Said the Question was then open For Debate After some Considerable Deliberation was unanimously Chosen to Preside in place of Elder Lawson [p. 32]