Home

>
Minutes and Testimonies, 12–29 November 1838 [State of Missouri v. Gates et al. for Treason]
Source Note

Minutes and Testimonies, , Ray Co., MO, 12–29 Nov. 1838,

State of MO v. Gates et al. for Treason

(Fifth Judicial Circuit of MO 1838); unidentified handwriting; 126 pages; Eugene Morrow Violette Collection, State Historical Society of Missouri, Columbia.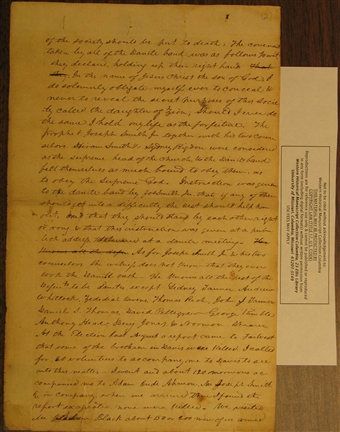 of the society should be put to death. The covenant taken by all the Danite band was as follows to wit: they declared, holding up their right hands
That they.
In the name of Jesus Christ the Son of God, I do solemnly obligate myself, ever to conceal & never to reveal the secret purposes of this Society called the daughter of Zion; Should I ever do the same I hold my life as the forfeiture. The prophet, Joseph Smith Jr together with his two counselors, & were considered as the supreme head of the church, & the Danite band felt themselves as much bound to obey them, as to obey the Supreme God. Instruction was given to the danite band by Jos Smith Jr. that if any of them should get into a difficulty, the rest should help him out, and that they should stand by each other right or rong, & that this instruction was given at a publick address,
talked to
delivered at a danite meeting—
He knows all the defen
As for Joseph Smith Jr & his two counselors the witness does not know that they ever took the Danite oath.— He knows all the rest of the Defen
ts.
to be danites, except Sidney Tanner, Andrew Whitlock, Zedediah Owens, , John J. Tanner Daniel S. Thomas, George Kimble Anthony Head, Benj Jones & Norman Shearer. At the election last August, a report came to that some of the brethren in were killed. I called for 20 volunteers to accompany me to to see into this matter.— I went and about 120 Mormons accompanied me to . Mr Joseph Smith Jr in company, when we arrived there I found the report exagerated none were killed— We visited Mr.
Black
about 150 or 200 men of us, armed [p. [3]]
of the society should be put to death. The covenant taken by all the Danite band was as follows to wit: they declared, holding up their right hands In the name of Jesus Christ the Son of God, I do solemnly obligate myself, ever to conceal & never to reveal the secret purposes of this Society called the daughter of Zion; Should I ever do the same I hold my life as the forfeiture. The prophet, Joseph Smith Jr together with his two counselors, & were considered as the supreme head of the church, & the Danite band felt themselves as much bound to obey them, as to obey the Supreme God. Instruction was given to the danite band by Jos Smith Jr. that if any of them should get into a difficulty, the rest should help him out, and that they should stand by each other right or rong, & that this instruction was given at a publick address, delivered at a danite meeting— As for Joseph Smith Jr & his two counselors the witness does not know that they ever took the Danite oath.— He knows all the rest of the Defents. to be danites, except Sidney Tanner, Andrew Whitlock, Zedediah Owens, , John J. Tanner Daniel S. Thomas, George Kimble Anthony Head, Benj Jones & Norman Shearer. At the election last August, a report came to that some of the brethren in were killed. I called for 20 volunteers to accompany me to to see into this matter.— I went and about 120 Mormons accompanied me to . Mr Joseph Smith Jr in company, when we arrived there I found the report exagerated none were killed— We visited Mr. about 150 or 200 men of us, armed [p. [3]]