Home

>
Minutes and Testimonies, 12–29 November 1838 [State of Missouri v. Gates et al. for Treason]
Source Note

Minutes and Testimonies, , Ray Co., MO, 12–29 Nov. 1838,

State of MO v. Gates et al. for Treason

(Fifth Judicial Circuit of MO 1838); unidentified handwriting; 126 pages; Eugene Morrow Violette Collection, State Historical Society of Missouri, Columbia.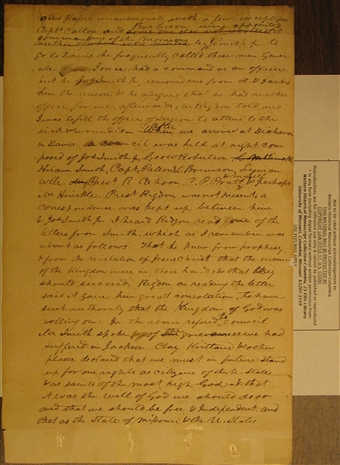 after
and passed unanimously with a few exceptions Capt
s
and
some one else not recollected
<​ were appointed​>
neither of whom were militia
<​commanders of the mormons​> by J Smith Jr. to go to . he frequently called these men Generals— I once had a command as an officer, but he Jo
s
Smith Jr. removed me from it & I asked him the reason, & he assigned that he had another office for me, afterwards told me I was to fill the office of sirgeon to attend to the sick & wounded—
When
<​After​> we arrived at in ,
the
a council was held at night, composed of Jo
s
Smith Jr, , , &. , ,
Mr.
Pres
t.
, <​& ​> & perhaps . was not present; a correspondence was kept up between him & Jo
s
Smith Jr I heard read
some
one of the letters from Smith; which as I remember was about as follows. That he knew from prophesy, & from the revelation of Jesus Christ, that the enemies of the kingdom were in their hands & that they should succeed. on reading the letter said it gave him great consolation, to have such authority that the kingdom of God was rolling on: In the above referred <​to​> council Mr Smith spoke
&
of
our
<​the​> grievances we had suffered. in , , & other places, declared that we must in future stand up for our rights as citizens of the & as saints of the most high God— & that it was the will of God we should do so and that we should be free & Independent, and that as the State of & the [p. [6]]
and passed unanimously with a few exceptions Capts and were appointed commanders of the mormons by J Smith Jr. to go to . he frequently called these men Generals— I once had a command as an officer, but he Jos Smith Jr. removed me from it & I asked him the reason, & he assigned that he had another office for me, afterwards told me I was to fill the office of sirgeon to attend to the sick & wounded— After we arrived at in , a council was held at night, composed of Jos Smith Jr, ,