Home

>
Minutes and Testimonies, 12–29 November 1838 [State of Missouri v. Gates et al. for Treason]
Source Note

Minutes and Testimonies, , Ray Co., MO, 12–29 Nov. 1838,

State of MO v. Gates et al. for Treason

(Fifth Judicial Circuit of MO 1838); unidentified handwriting; 126 pages; Eugene Morrow Violette Collection, State Historical Society of Missouri, Columbia.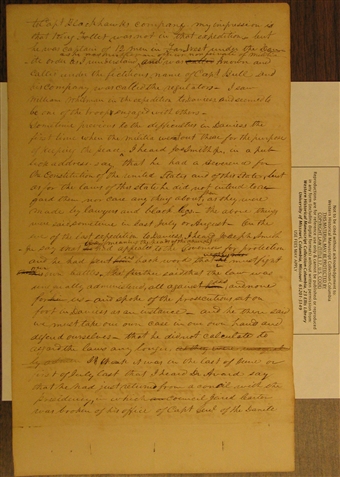 to s company. my impression is that was not in that expedition— but he was captain of 12 men in under the Danite order as I understand, <​as he was neither an officer nor private of militia​> and was
called
known and called under the fictitious name of — and his company was called the regulators— I saw William Whitman in the expedition to , and seemed to be one of the troop
s
engaged with others— Sometime previous to the difficulties in the first time when the militia went out there for the purpose of keeping the peace, I heard Jo
s
Smith Jr, in a publick address, say, that he had a reverence for the Constitution of the and of this , but as for the laws of this he did not intend to regard them nor care any thing about <​them​>, as they were made by lawyers and black legs.— the above things were said sometime in last July or August— On the eve of the last expedition to , I heard Joseph Smith— Jr say that
he
<​
they
we (meaning the heads of the church)​> had appealed to the for protection and he had sent
him
<​us​> back word that
he
<​we they nor​>
must fight
<​their​> his
<​our​> own battles—
that
he further said that the law was unequally administered, all against
him
<​us​> and none for
him
us— and spoke of the prosecutions set on foot in as an instance— and he then said we must take our own case in our own hands and defend ourselves— that he did not calculate to regard the laws any longer,
as they were unequally admin
It
I think it was in the last of June or first of July last that I heard say that he had just returned from a
consil
co[u]ncil with the presidency, in which
an
council was broken of his office of Capt Gen
l.
of the Danite [p. [62]]
to s company. my impression is that was not in that expedition— but he was captain of 12 men in under the Danite order as I understand, as he was neither an officer nor private of militia and was known and called under the fictitious name of — and his company was called the regulators— I saw William Whitman in the expedition to , and seemed to be one of the troop engaged with others— Sometime previous to the difficulties in the first time when the militia went out there for the purpose of keeping the peace, I heard Jos Smith Jr, in a publick address, say, that he had a reverence for the Constitution of the and of this , but as for the laws of this he did not intend to regard them nor care any thing about them, as they were made by lawyers and black legs.— the above things were said sometime in last July or August— On the eve of the last expedition to , I heard Joseph Smith— Jr say that we (meaning the heads of the church) had appealed to the for protection and he had sent us back word that must fight our own battles— he further said that the law was unequally administered, all against us and none for us— and spoke of the prosecutions set on foot in as an instance— and he then said we must take our own case in our own hands and defend ourselves— that he did not calculate to regard the laws any longer, I think it was in the last of June or first of July last that I heard say that he had just returned from a council with the presidency, in which council was broken of his office of Capt Genl. of the Danite [p. [62]]