Home

>
Mortgage to John Eagle, 20 June 1841
Source Note

JS, Mortgage for property in , IL, to , 20 June 1841; unidentified handwriting; Hancock County Bonds and Mortgages, 1:148–149; Hancock County Courthouse; microfilm at Family History Library.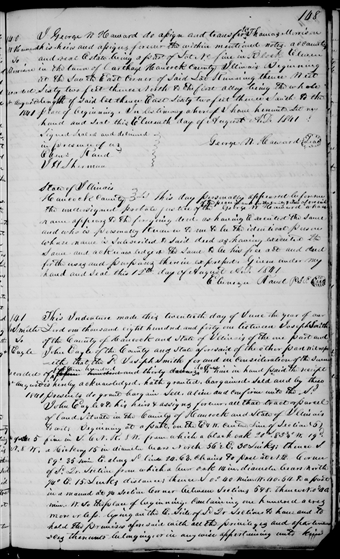 <​141​>
<​J Smith To ​>
<​Recorded
◊
th
August 1841​>
This Indenture made this twentieth day of June the year of our Lord one thousand eight hundred and forty one between Joseph Smith of the County of and State of of the one part and of the and aforesaid of other other part witnesseth that the S
d.
Joseph Smith for and in consideration of the sum of <​fifteen hundred​>
fifteen
hundred and thirty dollars
<​dollars​> to him in hand paid the receipt is hereby acknowledged, hath granted, bargained, sold and by these presents do grant bargain, sell, alien and confirm unto the S
d.
& to his heirs & assigns forever, all that tract or parcel of land situate in the County of and State of to wit; Beginning at a post, on the E & W. centre Line of Section (5) five in T. 6 N. R. 8 W. from which a black oak 20
o
. 83¾
o
W. 19
d.
a Hickory 15 in diameter bears North 56½ E. 30 Links; thence S. 89
o
35 min E. along S
d
line 24. 63. chains to post at N.E. Corner of S
d.
Qr. Section from which a burr oak 14 in. diameter bears north ¼
o
E. 15. Links distance; thence S 0
o.
40 min. W. 40. 54 to a post in a mound at ¼ section corner between sections 5 & 8. thence N. 0
o
40. min. W. To the place of beginning. Containing one hundred acres more or less, lying on the E. side of S
d
Qr sections to have and to hold the premises aforesaid with all the privileges and apurtenances thereunto belonging, or in any wise appertaining unto him [p. 148]
141
J Smith To
Recorded th August 1841
of sec 5 N. 8 W.
This Indenture made this twentieth day of June the year of our Lord one thousand eight hundred and forty one between Joseph Smith of the County of and State of of the one part and of the and aforesaid of other other part witnesseth that the Sd. Joseph Smith for and in consideration of the sum of fifteen hundred dollars to him in hand paid the receipt is hereby acknowledged, hath granted, bargained, sold and by these presents do grant bargain, sell, alien and confirm unto the Sd. & to his heirs & assigns forever, all that tract or parcel of land situate in the County of and State of to wit; Beginning at a post, on the E & W. centre Line of Section (5) five in T. 6 N. R. 8 W. from which a black oak 20o. 83¾o W. 19d. a Hickory 15 in diameter bears North 56½ E. 30 Links; thence S. 89
o
35 min E. along Sd line 24. 63. chains to post at N.E. Corner of Sd. Qr. Section from which a burr oak 14 in. diameter bears north ¼o E. 15. Links distance; thence S 0o. 40 min. W. 40. 54 to a post in a mound at ¼ section corner between sections 5 & 8. thence N. 0o 40. min. W. To the place of beginning. Containing one hundred acres more or less, lying on the E. side of Sd Qr sections to have and to hold the premises aforesaid with all the privileges and apurtenances thereunto belonging, or in any wise appertaining unto him [p. 148]