Home

>
Motion, 5 March 1842–A
Source Note

JS, Motion, to Nauvoo City Council, [, Hancock Co., IL], 5 Mar. 1842; handwriting of JS; one page; Nauvoo, IL, Records, 1841–1845, CHL. Includes endorsement and docket.

Single leaf measuring 2¾ × 7⅝ inches (7 × 19 cm). The motion was inscribed on one side of a slip of paper that was apparently hand cut from a larger sheet. The verso is blank. JS inscribed the document in pencil, edited it in blue ink, and it in blue ink.

The document bears a docket in the lower left corner of the recto probably in the handwriting of , who served as the city recorder from 1841 to 1843. The motion was presumably kept among Nauvoo city records. In 1845 the city of Nauvoo was disincorporated. Many if not most of the city records were listed in an inventory that was produced by the Church Historian's Office (now CHL) in 1846, when they were packed up with church records that were taken to the Salt Lake Valley. Subsequent inventories of church records in Salt Lake City indicate continuous institutional custody.

Footnotes

Historical Introduction

On 5 March 1842 JS proposed a motion to the , Illinois, city council regarding property sold at sheriff's sales. JS had been a member of the council since the body's creation in February 1841 and was elected vice mayor on 22 January 1842. He was an active participant in city council meetings, as demonstrated by this motion, one of at least three that he wrote in his own hand and submitted to the council on 5 March.

The motion proposed that the original owner of property sold at sheriff's, marshal's, and constable's sales could recover it within thirty days, provided the owner pay the principal cost and an additional fifteen percent. The city council passed the motion as a resolution, after which the resolution was inscribed in the city council proceedings volume by recorder . The original motion is featured here.

Footnotes

1

Nauvoo City Council Minute Book, 3 Feb. 1841, 1; 22 Jan. 1842, 52; JS et al., Oaths, 3 and 8 Feb. 1841, JS Collection, CHL.  

2

See Motions, 5 Mar. 1842–B and C. For JS's involvement on the city council during the time period covered by this volume, see Nauvoo City Council Rough Minute Book, 1 Jan. 1842, 1–5; 22 Jan. 1842, 8–10; 12 Feb. 1842, 10–13; 17 Feb. 1842, 13–16; 5 Mar. 1842, 16–20.  

3

Nauvoo City Council Rough Minute Book, 5 Mar. 1842, 17; Nauvoo City Council Minute Book, 5 Mar. 1842, 60. While ordinances the city council passed were frequently published in the church's Nauvoo newspaper, Times and Seasons, resolutions and meeting minutes were typically not, and the present resolution did not appear in the paper.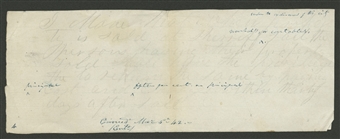 <​Under the ordinances of this ​>
I move that when proper
ty is sold at sherriff
<​marshal's, or con[s]tables,​>
sail the
persons having their property
sold shall have the priviledge
the
to redeem the same by paying
<​principle​>
cost and
<​fift[e]en per cent. on principal​>
charges within thirty
days after sale
Under the ordinances of this
I move that when proper
ty is sold at sherriff
marshal's, or constables,
sail the
persons having their property
sold shall have the priviledge
to redeem the same by paying
principle
cost and
fifteen per cent. on principal
charges within thirty
days after sale