Home

>
Preamble and Resolutions, 13 January 1845, Draft
Source Note

Nauvoo City Council, Draft of Preamble and Resolutions, , Hancock Co., IL, 13 Jan. 1845; handwriting of , , and ; docket in handwriting of ; five pages; Nauvoo, IL, Records, 1841–1845, CHL.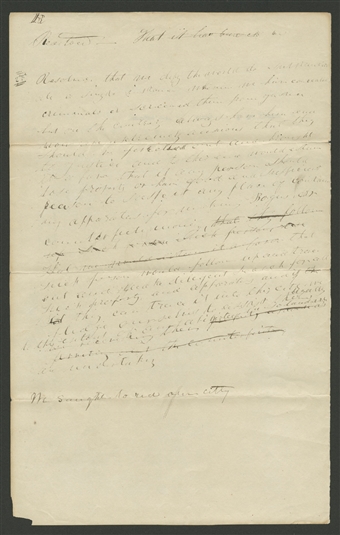 Resolved — that
it has been
<​
2

nd

.
​> Resolved, that we defy the world to substantiaate a single instance wherein we have concealed criminals or screened them from justice but on the contrary always have been and now are extremely anxious that they should be ferretted out and brought to justice and to this end would esteem it a favor that if any person should lose property or have good and sufficient reason to suspect any place of containing apparatus for making Bogus or counterfeit money,
that
they follow
up
such
person
such persons use
That we would esteem it a favor
— that such person would follow up and trace out and make diligent search for all such property, and apparatus and if
the
they can trace it into this we pledge ourselves to assist them <​legally to the extent of our abilities in so laudable ​>
by recovering their
property as well as
ferreting out the counterfeiters
, an undertaking
We saught to rid our city [p. [3]]
Resolved — that
2

nd

.
Resolved, that we defy the world to substantiaate a single instance wherein we have concealed criminals or screened them from justice but on the contrary always have been and now are extremely anxious that they should be ferretted out and brought to justice and to this end would esteem it a favor that if any person should lose property or have good and sufficient reason to suspect any place of containing apparatus for making Bogus or counterfeit money, — that such person would follow up and trace out and make diligent search for all such property, and apparatus and if they can trace it into this we pledge ourselves to assist them legally to the extent of our abilities in so laudable , an undertaking
We saught to rid our city [p. [3]]