Home

>
Transcript of Proceedings, circa 4 October 1842 [Bump Administrator of the Estate of Stannard v. Young and JS]
Source Note

Transcript of Proceedings, , Geauga Co., OH, ca. 4 Oct. 1842,

Bump Administrator of the Estate of Stannard v. Young and JS

(Geauga Co., OH, Court of Common Pleas 1842); Geauga County Court of Common Pleas, Common Pleas Record, vol. AA, pp. 474–476; handwriting of John French; Geauga County Archives and Records Center, Chardon, OH.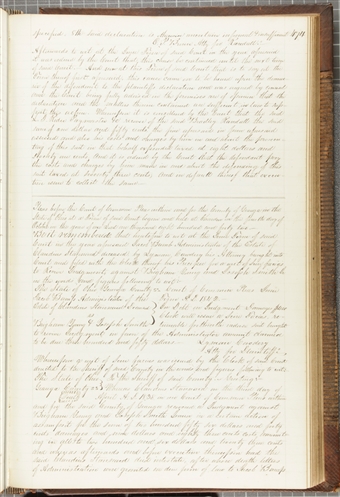 Pleas before the Court of Common Pleas within and for the County of in the State of at a Term of said Court begun and held at on the fourth day of October in the year of our Lord one thousand eight hundred and forty
to
<​two​>.—
Be it remembered. that heretofore to wit at the June Term of said Court in the year aforesaid Administrator of the Estate of Claudius Stannard deceased, by Lyman Cowdery his Attorney brought into Court and filed with the thereof his for a writ of to Revive Judgment, against and Joseph Smith Jr in the words and figures following to wit:—
["]The State of Ohio, ss. [scilicet]
Administrator of the Estate of Claudius Stannard Deceased)
vs)
& Joseph Smith)
Court of Common Pleas June Term A.D. 1842.—
In Debt in Judgment Damages $400 will issue a , returnable forthwith indorse suit brought to revive Judgment in favor of the amount claimed to be due three hundred and fifty dollars.—
Lyman Cowdery Att[orne]y for "—
Whereupon a writ of was issued by the of said Court directed to the of said in the words and figures following to wit:—
"The State of Ohio)
ss [scilicet])
seal
To the of said :— Greeting:—
Whereas Claudius Stannard on the third day of April A.D. 1838, in our Court of Common Pleas within and for the said County of recovered a Judgment against and Joseph Smith Junior in a certain action of for the sum of two hundred fifty six dollars and forty cents damages and nine dollars and eighty three cents costs amounting in all to two hundred and six dollars and twenty three cents and whereas afterwards and before thereupon had the said Claudius Stannard died intestate, after whose death letters of Administration were granted in due form of law to [p. 474]
Pleas before the Court of Common Pleas within and for the County of in the State of at a Term of said Court begun and held at on the fourth day of October in the year of our Lord one thousand eight hundred and forty two.—
Be it remembered. that heretofore to wit at the June Term of said Court in the year aforesaid Administrator of the Estate of Claudius Stannard deceased, by Lyman Cowdery his Attorney brought into Court and filed with the thereof his for a writ of to Revive Judgment, against and Joseph Smith Jr in the words and figures following to wit:—
["]The State of Ohio, ss. [scilicet]
Administrator of the Estate of Claudius Stannard Deceased)
vs)
& Joseph Smith)
Court of Common Pleas June Term A.D. 1842.—
In Debt in Judgment Damages $400 will issue a , returnable forthwith indorse suit brought to revive Judgment in favor of the amount claimed to be due three hundred and fifty dollars.—
Lyman Cowdery Attorney for "—
Whereupon a writ of was issued by the of said Court directed to the of said in the words and figures following to wit:—
"The State of Ohio)
ss scilicet)
seal
To the of said :— Greeting:—
Whereas Claudius Stannard on the third day of April A.D. 1838, in our Court of Common Pleas within and for the said County of recovered a Judgment against and Joseph Smith Junior in a certain action of for the sum of two hundred fifty six dollars and forty cents damages and nine dollars and eighty three cents costs amounting in all to two hundred and six dollars and twenty three cents and whereas afterwards and before thereupon had the said Claudius Stannard died intestate, after whose death letters of Administration were granted in due form of law to [p. 474]