Home

>
Trial Report, 5–19 January 1843, as Published in Reports [Extradition of JS for Accessory to Assault]
Source Note

Trial Report, [, Sangamon Co., IL], 5–19 Jan. 1843,

Extradition of JS for Accessory to Assault

(United States Circuit Court for the District of IL 1843). Published in John McLean,

Reports of Cases Argued and Decided in the Circuit Court of the United States, for the Seventh Circuit,

vol. 3, Cincinnati: Derby, Bradley and Co., 1847, pp. 121–139. Includes typeset signature marks.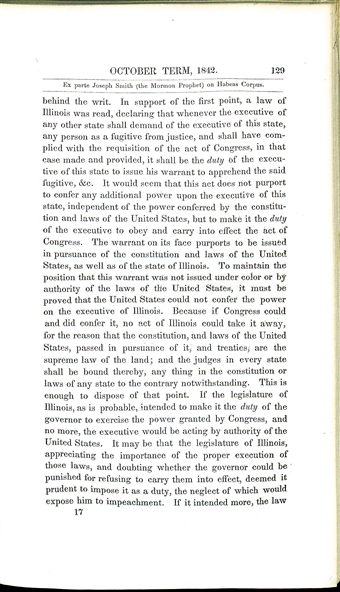 behind the writ. In support of the first point, a law of was read, declaring that whenever the executive of any other state shall demand of the executive of this , any person as a fugitive from justice, and shall have complied with the requisition of the act of Congress, in that case made and provided, it shall be the
duty
of the executive of this to issue his warrant to apprehend the said fugitive, &c. It would seem that this act does not purport to confer any additional power upon the executive of this , independent of the power conferred by the constitution and laws of the , but to make it the
duty
of the executive to obey and carry into effect the act of Congress. The warrant on its face purports to be issued in pursuance of the constitution and laws of the , as well as of the state of . To maintain the position that this warrant was not issued under color or by authority of the laws of the , it must be proved that the could not confer the power on the executive of . Because if Congress could and did confer it, no act of could take it away, for the reason that the constitution, and laws of the , passed in pursuance of it, and treaties, are the supreme law of the land; and the judges in every state shall be bound thereby, any thing in the constitution or laws of any state to the contrary notwithstanding. This is enough to dispose of that point. If the legislature of , as is probable, intended to make it the
duty
of the governor to exercise the power granted by Congress, and no more, the executive would be acting by authority of the . It may be that the legislature of , appreciating the importance of the proper of those laws, and doubting whether the governor could be punished for refusing to carry them into effect, deemed it prudent to impose it as a duty, the neglect of which would expose him to impeachment. If it intended more, the law [p. 129]
behind the writ. In support of the first point, a law of was read, declaring that whenever the executive of any other state shall demand of the executive of this , any person as a fugitive from justice, and shall have complied with the requisition of the act of Congress, in that case made and provided, it shall be the
duty
of the executive of this to issue his warrant to apprehend the said fugitive, &c. It would seem that this act does not purport to confer any additional power upon the executive of this , independent of the power conferred by the constitution and laws of the , but to make it the
duty
of the executive to obey and carry into effect the act of Congress. The warrant on its face purports to be issued in pursuance of the constitution and laws of the , as well as of the state of . To maintain the position that this warrant was not issued under color or by authority of the laws of the , it must be proved that the could not confer the power on the executive of . Because if Congress could and did confer it, no act of could take it away, for the reason that the constitution, and laws of the , passed in pursuance of it, and treaties, are the supreme law of the land; and the judges in every state shall be bound thereby, any thing in the constitution or laws of any state to the contrary notwithstanding. This is enough to dispose of that point. If the legislature of , as is probable, intended to make it the
duty
of the governor to exercise the power granted by Congress, and no more, the executive would be acting by authority of the . It may be that the legislature of , appreciating the importance of the proper of those laws, and doubting whether the governor could be punished for refusing to carry them into effect, deemed it prudent to impose it as a duty, the neglect of which would expose him to impeachment. If it intended more, the law [p. 129]