Home

>
Account of Hearing, 8 May 1844 [F. M. Higbee v. JS–A on Habeas Corpus]
Source Note

Account of Hearing, [, Hancock Co., IL], 8 May 1844,

F. M. Higbee v. JS–A on Habeas Corpus

(Nauvoo, IL, Municipal Court 1844); handwriting of ; docket by , [, Hancock Co., IL], 8 May 1844; notation by , 10 May 1844; docket by unidentified scribe, [ca. 10 May 1844]; fourteen pages; Nauvoo, IL, Records, CHL. Includes notation.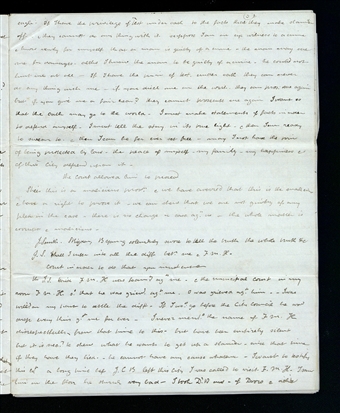 eagle— If I have the privilege of test[ifying] under oath to the facts that they make slander off— & they cannot do any thing with it suppose I am an eye witness to a crime & know verily for myself that a man is guilty of a crime— the man may sue me for damages— altho I know the man to be guilty of a crime— he could not hurt me at all— If I have the priv of test. under oath they can never do any thing with me— if you disch[arge] me on the writ— they can pros. me again but if you give me a fair hear
g.
they cannot prosecute me again I want so that the oath may go to the world— I must make statements of facts in order to defend myself— I must tell the story in its true light— & then I am ready to swear to. & then I can be for ever set free— may I not have the priv of being protected by law— the peace of myself— my family— my happiness & of this depend upon it—
the court allowed him to proceed
this is a malicious pros
n.
& we have averred that this is the malicious & have a right to prove it— we can shew that we are not guilty of any plea in the case— there is no charge or case ag
n.
us— the whole matter is corrupt & malicious—
J. Smith. , solemnly swore to tell the truth the whole truth &c
J. S. shall I enter into all the diff[iculties] bet[wee]
n.
me & —
court in order to do that you must enter
[illegible]
J. S. said was foam
g.
ag
t
me— & the municipal court in my room s
d.
that he was griev
d.
ag
t.
me. I was grieved ag
t.
him
——
I was will[in]
g.
on my part to settle the diff— If I wo
d.
go before the City Council he wo
d
drop every thing g
st.
me for ever— I never ment[ione]
d.
the name of disrespectfully from that time to this— but have been entirely silent but it is nec[essar]
y.
to shew what he wants to get up a slander— since that time if they have they lied.— he cannot have any cause whatever— I want to testify this co[ur]
t.
a long time bef[ore] left this I was called to visit I saw him on the floor he stunk very bad— I took out— of Doors & asked [p. 3]
eagle— If I have the privilege of testifying under oath to the facts that they make slander off— & they cannot do any thing with it suppose I am an eye witness to a crime & know verily for myself that a man is guilty of a crime— the man may sue me for damages— altho I know the man to be guilty of a crime— he could not hurt me at all— If I have the priv of test. under oath they can never do any thing with me— if you discharge me on the writ— they can pros. me again but if you give me a fair hearg. they cannot prosecute me again I want so that the oath may go to the world— I must make statements of facts in order to defend myself— I must tell the story in its true light— & then I am ready to swear to. & then I can be for ever set free— may I not have the priv of being protected by law— the peace of myself— my family— my happiness & of this depend upon it—
the court allowed him to proceed
this is a malicious prosn. & we have averred that this is the malicious & have a right to prove it— we can shew that we are not guilty of any plea in the case— there is no charge or case agn. us— the whole matter is corrupt & malicious—
J. Smith. , solemnly swore to tell the truth the whole truth &c
J. S. shall I enter into all the difficulties between. me & —
court in order to do that you must enter
J. S. said was foamg. agt me— & the municipal court in my room sd. that he was grievd. agt. me. I was grieved agt. him
——
I was willing. on my part to settle the diff— If I wod. go before the City Council he wod drop every thing gst. me for ever— I never mentioned. the name of disrespectfully from that time to this— but have been entirely silent but it is necessary. to shew what he wants to get up a slander— since that time if they have they lied.— he cannot have any cause whatever— I want to testify this court. a long time before left this I was called to visit I saw him on the floor he stunk very bad— I took out— of Doors & asked [p. 3]