Home

>
Affidavit from Daniel Avery, 28 December 1843
Source Note

, Affidavit, before JS, , IL, 28 Dec. 1843; handwriting of ; signature of ; docket in handwriting of ; nine pages; JS Office Papers, CHL.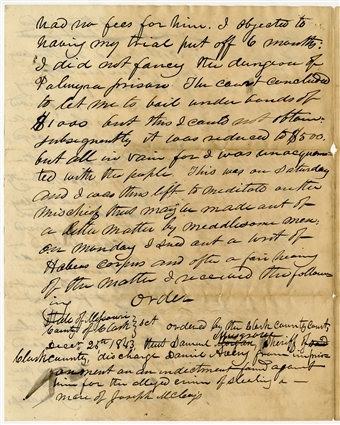 had no fees for him. I objected to having my trial put off 6 months: I did not fancy the dungeon of Palmyra prison. The court concluded to let me to bail under bonds of $1000 but this I could not obtain: subsequently it was reduced to $500, but all in vain for I was unacquainted with the people. This was on Saturday and I was thus left to meditate on the mischief that may be made out of a little matter by meddlesome men: On Monday I sued out a writ of and after a fair hearing of the matter I received the following Order
State of Missouri)
sct
County of Clark)
ordered by the Clark County Court, Dece
r.
25
th
, 1843, that Samuel
Morgan
, <​Musgrove​>
of
sheriff of
said
<​Clark​> County, discharge from imprisonment on an indictment found against him for the alleged crime of stealing a— mare of Joseph McCay's [p. [8]]
had no fees for him. I objected to having my trial put off 6 months: I did not fancy the dungeon of Palmyra prison. The court concluded to let me to bail under bonds of $1000 but this I could not obtain: subsequently it was reduced to $500, but all in vain for I was unacquainted with the people. This was on Saturday and I was thus left to meditate on the mischief that may be made out of a little matter by meddlesome men: On Monday I sued out a writ of and after a fair hearing of the matter I received the following Order
State of Missouri)
sct
County of Clark)
ordered by the Clark County Court, Decer. 25th, 1843, that Samuel , Musgrove sheriff of Clark County, discharge from imprisonment on an indictment found against him for the alleged crime of stealing a— mare of Joseph McCay's [p. [8]]