Home

>
Deed, 23 November 1841 [Underwood, Bald, Spencer & Hufty v. Rigdon et al.]
Source Note

on behalf of , Joel McWithey, JS, Eliphalet Boynton, , , , , , , Chauncey Webb, and , Deed for property in , Geauga Co., OH, to Daniel Carter, 23 Nov. 1841; handwriting of Alfred Phelps; signature of ; witnessed by Alfred Phelps and Edwin F. Phelps, 23 Nov. 1841; certification by Alfred Phelps, 24 Nov. 1841; docket by Alfred Phelps, [, Geauga Co., OH], [ca. 24 Nov. 1841]; notation by Daniel Kerr, 14 Mar. 1842; notation by H. F. Shepard, 16 Mar. 1842; four pages; JS Collection, CHL. Includes seals.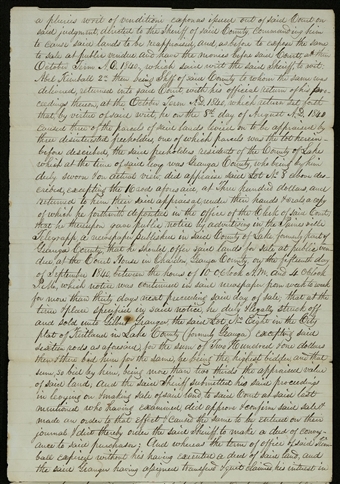 a pluries writ of venditioni exponas issued out of said Court on said judgment, directed to the of said , commanding him to cause said lands to be reappraised, and, as before to expose the same to sale at public vendue, and have the monies before said Court, at their October Term A.D. 1840, which said writ the said , to wit: 2
d
then being Shff of said to whom the same was delivered, returned into said Court, with his official return of his proceedings thereon, at the October Term A.D. 1840, which return set forth that, by virtue of said writ, he on the 8
th.
day of August A.D. 1840 caused three of the parcels of said lands levied on to be appraised by three disinterested freeholders, one of which parcels was the lot herein— before described, the said freeholders residents of the County of Lake which at the time of said levy was who being by him duly sworn & on actual view, did appraise said Lot N
o
8 above described, excepting the 16 rods aforesaid, at Three hundred dollars, and returned to him their said appraisal, render their hands & seals, a copy of which he forthwith deposited in the office of the of said Court; that he thereupon gave public notice by advertising in the Painesville Telegrapp [Telegraph], a newspaper published in said County of Lake, formerly part of , that he should offer said lands for sale at public vendue, at the Court House in , Geauga County, on the fifteenth day of September 1840, between the hours of 10 o.Clock A.M. and 4 oClock P.M., which notice was continued in said newspaper from week to week for more than thirty days next preceeding said day of sale; that at the time & place specified in said notice, he duly & legally struck off and sold unto , the said Lot N
o
Eight in the City plat of in Lake County (formerly ) excepting said sixteen rods as aforesaid, for the sum of Two Hundred & one dollars then & there bid him for the same, he being the highest bidder, and that sum, so bid by him, being more than two thirds the appraised value of said land; and the said submitted his said proceedings in levying on & making sale of said land, to said Court at said last mentioned who having examined, did approve & confirm said sale & made an order to that effect & caused the same to be entered on their journal, & did thereby order the said to make a deed of conveyance to said purchasor: And whereas the term of office of said expired without his having executed a deed of said land, and the said having assigned transfered & quit claimed, his interest in [p. [2]]
a pluries writ of venditioni exponas issued out of said Court on said judgment, directed to the of said , commanding him to cause said lands to be reappraised, and, as before to expose the same to sale at public vendue, and have the monies before said Court, at their October Term A.D. 1840, which said writ the said , to wit: 2
d
then being Shff of said to whom the same was delivered, returned into said Court, with his official return of his proceedings thereon, at the October Term A.D. 1840, which return set forth that, by virtue of said writ, he on the 8th. day of August A.D. 1840 caused three of the parcels of said lands levied on to be appraised by three disinterested freeholders, one of which parcels was the lot herein— before described, the said freeholders residents of the County of Lake which at the time of said levy was who being by him duly sworn & on actual view, did appraise said Lot N
o
8 above described, excepting the 16 rods aforesaid, at Three hundred dollars, and returned to him their said appraisal, render their hands & seals, a copy of which he forthwith deposited in the office of the of said Court; that he thereupon gave public notice by advertising in the Painesville Telegrapp [Telegraph], a newspaper published in said County of Lake, formerly part of , that he should offer said lands for sale at public vendue, at the Court House in , Geauga County, on the fifteenth day of September 1840, between the hours of 10 o.Clock A.M. and 4 oClock P.M., which notice was continued in said newspaper from week to week for more than thirty days next preceeding said day of sale; that at the time & place specified in said notice, he duly & legally struck off and sold unto , the said Lot N
o
Eight in the City plat of in Lake County (formerly ) excepting said sixteen rods as aforesaid, for the sum of Two Hundred & one dollars then & there bid him for the same, he being the highest bidder, and that sum, so bid by him, being more than two thirds the appraised value of said land; and the said submitted his said proceedings in levying on & making sale of said land, to said Court at said last mentioned who having examined, did approve & confirm said sale & made an order to that effect & caused the same to be entered on their journal, & did thereby order the said to make a deed of conveyance to said purchasor: And whereas the term of office of said expired without his having executed a deed of said land, and the said having assigned transfered & quit claimed, his interest in [p. [2]]