Deed to William Marks, 10 April 1837–B
Source Note

JS and , Deed for property in , Geauga Co., OH, to , 10 Apr. 1837; Geauga County Deed Record, vol. 23, pp. 536–537; handwriting of ; Geauga County Archives and Records Center, Chardon, OH.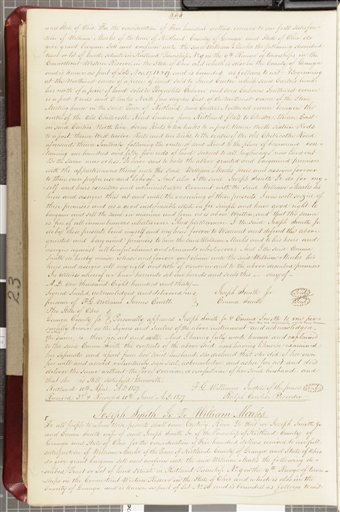 To all people to whom these p[r]esents shall come Greeting. Know Ye that we Joseph Smith Jr and wife of said Joseph Smith Jr. of the Township of County of Geauga and State of Ohio. for the consideration of Five hundred dollars received to our full satisfaction of of the Town of County of Geauga and State of Ohio do give grant bargain sell and confirm unto the said the following described Tract or Lot of land situate in N
o.
9 in the 9
th

.
Range of townships in the Connecticut Western Reserve in the State of Ohio and which is also in the County of Geauga and is known as part of Lot N
o.
30 and is bounded as follows to wit [p. 536]
To all people to whom these presents shall come Greeting. Know Ye that we Joseph Smith Jr and wife of said Joseph Smith Jr. of the Township of County of Geauga and State of Ohio. for the consideration of Five hundred dollars received to our full satisfaction of of the Town of County of Geauga and State of Ohio do give grant bargain sell and confirm unto the said the following described Tract or Lot of land situate in No. 9 in the 9
th
. Range of townships in the Connecticut Western Reserve in the State of Ohio and which is also in the County of Geauga and is known as part of Lot No. 30 and is bounded as follows to wit [p. 536]