Discourse, 16 June 1844–A, as Reported by Thomas Bullock
Source Note

JS, Discourse, [, Hancock Co., IL], 16 Jun 1844; handwriting of ; five pages; JS Collection, CHL.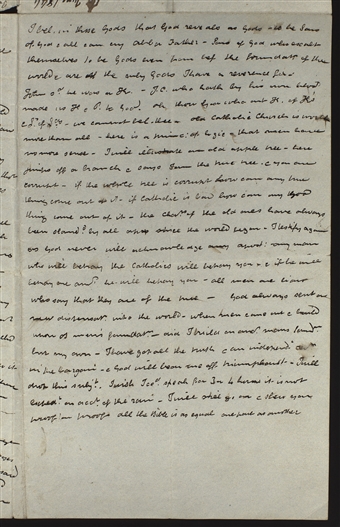 I bel. in these Gods that God reveals as Gods— to be Sons of God & all can cry Abba Father— Sons of God who exalt themselves to be Gods even from bef. the foundat
n.
of the world & are the only Gods I have a reverence for— John s
d.
he was a K.— J. C. who hath by his own blood made us K & P. to God. oh thou God who art K. of K's & L
d.
of L
ds.
— we cannot bel. thee— old Catholic Church is worth more than all— here is a princ. of logic— that men have no more sense— I will illustrate an old apple tree— here jumps off a branch & says I am the true tree. & you are corrupt— if the whole tree is corrupt how can any good thing come out of it— if Catholic is bad how can any good thing come out of it— the cha
rs.
of the old ones have always been sland
g.
by all apos since the world began— I testify again as God never will acknowledge any apost: any man who will betray the Catholics will betray you— & if he will betray one ano
r.
he will betray you— all men are liars who say that they are of the true— God always sent a new dispensat
n.
into the world— when men came out & build upon o
t
men's foundat
n.
— did I build on ano
r.
mans found
n.
but my own— I have got all the truth & an indepen
t.
rev
n.
in the bargain— & God will bear me off triumphant— I will drop this subj
t.
. I wish I co
d.
speak for 3 or 4 hours it is not exped
t.
on acc
t.
of the rain— I will still go on & shew you proof on proof all the Bible is as equal one part as another [p. [5]]
I bel. in these Gods that God reveals as Gods— to be Sons of God & all can cry Abba Father— Sons of God who exalt themselves to be Gods even from bef. the foundatn. of the world & are the only Gods I have a reverence for— John sd. he was a K.— J. C. who hath by his own blood made us K & P. to God. oh thou God who art K. of K's & Ld. of Lds.— we cannot bel. thee— old Catholic Church is worth more than all— here is a princ. of logic— that men have no more sense— I will illustrate an old apple tree— here jumps off a branch & says I am the true tree. & you are corrupt— if the whole tree is corrupt how can any good thing come out of it— if Catholic is bad how can any good thing come out of it— the chars. of the old ones have always been slandg. by all apos since the world began— I testify again as God never will acknowledge any apost: any man who will betray the Catholics will betray you— & if he will betray one anor. he will betray you— all men are liars who say that they are of the true— God always sent a new dispensatn. into the world— when men came out & build upon ot men's foundatn.— did I build on anor. mans foundn. but my own— I have got all the truth & an indepent. revn. in the bargain— & God will bear me off triumphant— I will drop this subjt.. I wish I cod.speak for 3 or 4 hours it is not expedt. on acct. of the rain— I will still go on & shew you proof on proof all the Bible is as equal one part as another [p. [5]]