Home

>
Discourse, 28 April 1842
Source Note
Historical Introduction

At a meeting of the held on 28 April 1842, JS delivered a discourse on the gift of healing, the order of the , and related topics. This was the society's sixth meeting and the third time JS addressed its members. JS took 1 Corinthians chapters 12 and 13 as his text, emphasizing to society members the importance of magnifying whatever callings they individually held, rather than aspiring to office. Responding to circulating criticism that the women leading the organization were acting improperly in administering blessings of healing by , JS spoke at length on the topic, opining that miraculous signs such as healing the sick "should follow all that believe whether male or female" and that "if the sisters should have faith to heal the sick, let all hold their tongues, and let every thing roll on." Contemplating his own mortality, and echoing a previous assertion that he would make the society a "kingdom of priests," JS declared that he would deliver over to the society and the church the " of the kingdom." Secretary noted in the minutes following JS's discourse that "the spirit of the Lord was pour'd out in a very powerful manner, never to be forgotten by those present on that interesting occasion."

It appears contemporaneously took notes of JS's instructions, as well as the rest of the meeting's proceedings, on a separate document—no longer extant—and then, presumably shortly after the meeting, made the copy featured here in the minute book.

Footnotes

1
2

Relief Society Minute Book, 28 Apr. 1842, [41], in Derr et al., First Fifty Years of Relief Society, 61.  

Derr, Jill Mulvay, Carol Cornwall Madsen, Kate Holbrook, and Matthew J. Grow, eds. The First Fifty Years of Relief Society: Key Documents in Latter-day Saint Women's History. Salt Lake City: Church Historian's Press, 2016.

3

On 27 August 1844 John McEwan copied the discourse from the minute book into the back of Wilford Woodruff's 1841–1842 journal.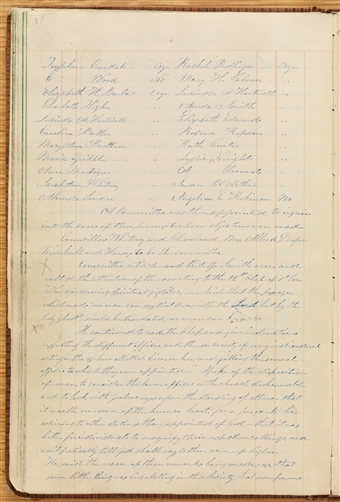 J. Smith arose and call'd the attention of the meeting to the 12
th
Chap. of 1
st
Cor. "Now concerning spiritual gifts" &c.— Said that the passage which reads "no man can
say
that Jesus is the the
Christ
<​Lord​> but by the holy ghost," should be translated, no man can
know
&c
He continued to read the Chap. and give instructions respecting the different offices, and the necessity of every individual acting in the sphere allotted him or her; and filling the several offices to which they were appointed— Spoke of the disposition of man, to consider the lower offices in the dishonorable and to look with jealous eyes upon the standing of others— that it was the nonsense of the human heart, for a person to be aspiring to other stations than appointed of God— that it was better for individuals to magnify their respective callings, and wait patiently till God shall say to them come up higher. He said the reason of these remarks being made, was, that some little thing was circulating in the , that some persons [p. [35]]
J. Smith arose and call'd the attention of the meeting to the 12th Chap. of 1st Cor. "Now concerning spiritual gifts" &c.— Said that the passage which reads "no man can
say
that Jesus is the the Lord but by the holy ghost," should be translated, no man can
know
&c
He continued to read the Chap. and give instructions respecting the different offices, and the necessity of every individual acting in the sphere allotted him or her; and filling the several offices to which they were appointed— Spoke of the disposition of man, to consider the lower offices in the dishonorable and to look with jealous eyes upon the standing of others— that it was the nonsense of the human heart, for a person to be aspiring to other stations than appointed of God— that it was better for individuals to magnify their respective callings, and wait patiently till God shall say to them come up higher. He said the reason of these remarks being made, was, that some little thing was circulating in the , that some persons [p. [35]]