Discourse, between circa 26 June and circa 4 August 1839–A, as Reported by Willard Richards
Source Note

JS, Discourse, , IL, between ca. 26 June and ca. 4 Aug. 1839; in Willard Richards Pocket Companion, pp. 63–73; handwriting of ; Willard Richards, Journals, CHL.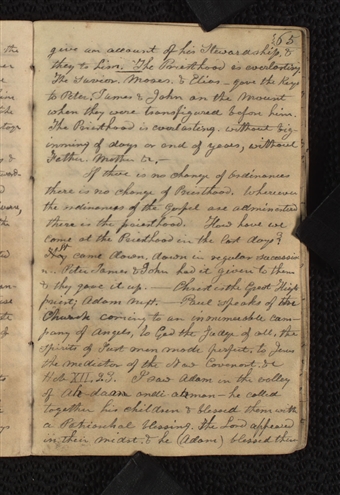 give an account of his , & they to him. The is everlasting. The Savior. Moses. & Elias— gave the to Peter, James & John on the Mount when they were transfigured before him. The Priesthood is everlasting. without biginning of days or end of years, without Father. Mother &c.—
If there is no change of there is no change of Priesthood. Wherever the ordinances of the Gospel are adminesterd there is the priesthood. How have we come at the Priesthood in the last days?
They
<​It​> came down, down in regular succession— Peter James & John had it given to them & they gave it up.— Christ is the Great ; Adam next.— Paul speaks of
an
the Church coming to an innumerable company of Angels, to God the Judge of all, the spirits of Just men made perfect, to Jesus the mediator of the . &c Heb XII, 2 3. I saw Adam in the valley of — he called together his children & blessed them with a . The Lord appeared in their midst. & he (Adam) blessed them [p. 65]
give an account of his , & they to him. The is everlasting. The Savior. Moses. & Elias— gave the to Peter, James & John on the Mount when they were transfigured before him. The Priesthood is everlasting. without biginning of days or end of years, without Father. Mother &c.—
If there is no change of there is no change of Priesthood. Wherever the ordinances of the Gospel are adminesterd there is the priesthood. How have we come at the Priesthood in the last days? It came down, down in regular succession— Peter James & John had it given to them & they gave it up.— Christ is the Great ; Adam next.— Paul speaks of the Church coming to an innumerable company of Angels, to God the Judge of all, the spirits of Just men made perfect, to Jesus the mediator of the . &c Heb XII, 2 3. I saw Adam in the valley of — he called together his children & blessed them with a . The Lord appeared in their midst. & he (Adam) blessed them [p. 65]