Discourse, between circa 26 June and circa 4 August 1839–A, as Reported by Willard Richards
Source Note

JS, Discourse, , IL, between ca. 26 June and ca. 4 Aug. 1839; in Willard Richards Pocket Companion, pp. 63–73; handwriting of ; Willard Richards, Journals, CHL.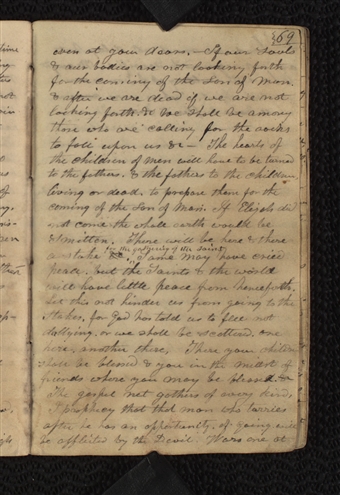 even at your doors,— If our souls & our bodies are not looking forth for the coming of the Son of Man. & after we are dead if we are not looking forth. &c We shall be among those who are calling for the rocks to fall upon us &c— The hearts of the children of men will have to be turned to the fathers. & the fathers to the children, living or dead, to prepare them for the coming of the Son of Man. If Elijah did not come the whole earth would be Smitten. There will be here & there a
&c.
<​for the of the saints​> Some may have cried peace. but the Saints & the world will have little peace from henceforth. Let this not hinder us from going to the Stakes, for God has told us to flee not dallying. or we shall be scattered. one here, another there, There your children shall be blessed & you in the midst of friends where you may be blessed.
&c
The gospel net gathers of every kind, I prophecy that that man who tarries after he has an opportunity of going will be afflicted by the Devil. Wars are at [p. 69]
even at your doors,— If our souls & our bodies are not looking forth for the coming of the Son of Man. & after we are dead if we are not looking forth. &c We shall be among those who are calling for the rocks to fall upon us &c— The hearts of the children of men will have to be turned to the fathers. & the fathers to the children, living or dead, to prepare them for the coming of the Son of Man. If Elijah did not come the whole earth would be Smitten. There will be here & there a for the of the saints Some may have cried peace. but the Saints & the world will have little peace from henceforth. Let this not hinder us from going to the Stakes, for God has told us to flee not dallying. or we shall be scattered. one here, another there, There your children shall be blessed & you in the midst of friends where you may be blessed. The gospel net gathers of every kind, I prophecy that that man who tarries after he has an opportunity of going will be afflicted by the Devil. Wars are at [p. 69]