Home

>
Docket Entry, Dismissal, 22 May 1846 [JS et al. v. C. B. Street and M. B. Street]
Source Note

Docket Entry, Dismissal, [, Hancock Co., IL, 22 May 1846],

JS et al. v. C. B. Street and M. B. Street

(Hancock Co., IL, Circuit Court 1846); Hancock County Circuit Court Record, vol. D, p. [443]; handwriting probably of ; Hancock County Courthouse, Carthage, IL; microfilm at FHL.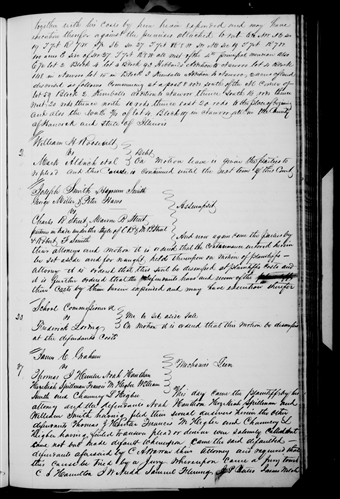 | | |
| --- | --- |
| Joseph Smith ) | |
| & ) | |
| vs) | |
| Charles B Street Marvin B Street) | |
| partners in trade under the Style of C B & M B Street) | |
| & Robert F Smith) | |
And now again came the parties by their atto[r]neys and Motion it is ordered that the Continuance entered herein be set aside and for naught held thereupon on Motion of plaintiffs— attoney it is ordered that this suit be dismissed at plaintiffs Costs and it is further ordered that the Defendants have and recover of the
plaintiffs
their costs by them herein expended and may have therefor [p. [443]]
| | |
| --- | --- |
| Joseph Smith ) | |
| & ) | |
| vs) | |
| Charles B Street Marvin B Street) | |
| partners in trade under the Style of C B & M B Street) | |
| & Robert F Smith) | |
And now again came the parties by their attorneys and Motion it is ordered that the Continuance entered herein be set aside and for naught held thereupon on Motion of plaintiffs— attoney it is ordered that this suit be dismissed at plaintiffs Costs and it is further ordered that the Defendants have and recover of the their costs by them herein expended and may have therefor [p. [443]]