Home

>
Edward Partridge, History, Manuscript, circa 1839
Source Note

, History, Manuscript, ca. 1839; handwriting of ; nineteen pages (several additional leaves missing); CHL.

Historical Introduction

While incarcerated at , Missouri, in March 1839, JS addressed a letter to the Saints and to " in particular" in which he called for the Saints to gather up "a knoledge of all the facts and sufferings and abuses put upon them" in that they might publish the records "to all the world" and "present them to the heads of the government." (JS et al., Liberty, MO, to the church members and Edward Partridge, Quincy, IL, 20 Mar. 1839, in Revelations Collection, CHL [D&C 123:1, 6].) Apparently in response to this assignment, Edward Partridge wrote a history that became the first three installments of "

A History, of the Persecution, of the Church of Jesus Christ, of Latter Day Saints in Missouri

," an eleven-part series published in the church's newspaper,

Times and Seasons

, between December 1839 and October 1840.

may have intended to tell the entire story himself, but he fell ill shortly after publication began and died 27 May 1840. Partridge's manuscript, which he did not title, is provided here. The full text of "

A History, of the Persecution

," which necessarily relied on other sources following Partridge's demise, receives comprehensive treatment in volume 2 of the Histories series of

The Joseph Smith Papers

and is available on this website.

's history begins with his account of the conflicts in the early 1830s. Partridge was a bishop of the church in Missouri, first in and then in following the Saints' expulsion from Jackson County. He also served as bishop in after the Saints relocated there from Clay County in 1836. By the time he drafted his account of the Mormon experiences in Missouri, the Saints had been exiled from the state and had relocated to .

's narrative is based on firsthand observations and may also have relied on other records he kept. It begins, "In presenting to our readers a history of the persecutions," indicating that Partridge wrote it for publication purposes. However, there are occasionally significant differences between the manuscript version and "A History, of the Persecution" as published.

The early custodial history of the manuscript is somewhat uncertain. However, the manuscript was presumably among materials in the possession of church historian and recorder Joseph Fielding Smith, who held that office from 1921 to 1970 and who had worked in the Church Historian's Office many years prior. The manuscript became part of the First Presidency's papers when Smith became church president in 1970, and, with other records (including Revelation Book 1 and two drafts of JS's history), was transferred from the First Presidency's office to the Church History Library in 2005.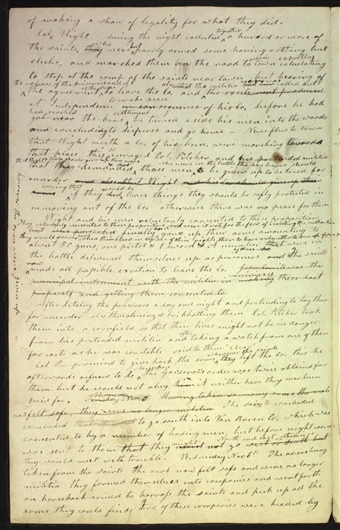 of making a show of legality for what they did.
during the night collected <​together​> a hundred or more of the saints,
they
<​who​> were <​but​> poorly armed some having nothing but clubs, and marched them on the road to<​wards​> town calculating <​expecting​> to stop at the camp of the saints near town but hearing of <​the release of the prisoners and of​> the agreement <​of the brn.​> to leave the and <​also that the militia
had been
<​
were
was​> called out​>
the excitement produced
at <​to make peace​>
in consequence of his Co.
before he had
got near
<​had reached​> the brns <​settlement​> he turned aside his men into the woods
and
concluding to disperse and go home— News flew to town that with a co. of his brn. were marching towards that place this <​so​> enraged and his pretended militia that
they
he demanded <​that & his Co. should give up their arms <​& that​>​> those men <​who were in the battle the day before should​>
to
be given up to be tried for murder
and also that and his Co. should give up their arms
<​saying that​> if they
did
<​would do​> those things they should be saf[e]ly protected in removing out of the otherwise there was no peace for them
and his men reluctan[t]ly consented to these propositions
but
were persuaded
finally
<​They reluctan[t]ly consented to those propositions and were it not for the fear of resisting the authorities they would sooner <​have​> shed their blood in defence of their rights than to have submitted to such oppression​> <​however the arms were given up​>
<​and​>
gave up their arms amounting to about 50 guns, one pistol & 1 sword & A number <​of those who​>
that
were in the battle delivered themselves up as prisoners
and
The saints <​now​> made all possible exertion to leave the
was the principal instrument with the militia in making <​receiving​> these last proposals and getting them consented to
After detain[in]g the prisoners a day and night and pretending to try them for murder also threatening & brickbatting them took them into a cornfield so that their lives might not be in danger from his pretended militia and <​after​> taking a watch from one of them for costs as he was constable said to them "clear"
— promised to give back the arms <​whenever the saints​>
they
left the this he afterwards refused to do <​whereupon​> the 's order was twice obtaind for them but he would not obey
him
it neither have they ever been paid for.
Tuesday <​Wednesday​> Nov.

6
Having taken so many arms, the mob now felt safe, they were no longer militia
The saints concluded
to
concluded
that it woul
to go south into Van Buren Co. which was consented to by a number of leading men, but before night word was sent to them that they
must
not
<​might​> go
west or South but
<​North and east otherwise​> they would meet with trouble. Wednesday Nov 6
th
The arms being taken from the Saints the mob now felt safe and were no longer militia they formed themselves into companies and went forth on horseback armed to harrass the saints and pick up all the arms they could find. Two of these companies were headed by [p. [13]]
of making a show of legality for what they did.
during the night collected together a hundred or more of the saints, who were but poorly armed some having nothing but clubs, and marched them on the road towards town calculating expecting to stop at the camp of the saints near town but hearing of the release of the prisoners and of the agreement of the brn. to leave the and also that the militia was called out at to make peace before he had had reached the brns settlement he turned aside his men into the woods concluding to disperse and go home— News flew to town that with a co. of his brn. were marching towards that place this so enraged and his pretended militia that he demanded that & his Co. should give up their arms & that those men who were in the battle the day before should be given up to be tried for murder saying that if they would do those things they should be safely protected in removing out of the otherwise there was no peace for them
and his men reluctantly consented to these propositions They reluctantly consented to those propositions and were it not for the fear of resisting the authorities they would sooner have shed their blood in defence of their rights than to have submitted to such oppression however the arms were given up gave up their arms amounting to about 50 guns, one pistol & 1 sword & A number of those who were in the battle delivered themselves up as prisoners The saints now made all possible exertion to leave the
After detaining the prisoners a day and night and pretending to try them for murder also threatening & brickbatting them took them into a cornfield so that their lives might not be in danger from his pretended militia and after taking a watch from one of them for costs as he was constable said to them "clear"
— promised to give back the arms whenever the saints left the this he afterwards refused to do whereupon the 's order was twice obtaind for them but he would not obey it neither have they ever been paid for. The saints concluded concluded to go south into Van Buren Co. which was consented to by a number of leading men, but before night word was sent to them that they might go North and east otherwise they would meet with trouble. Wednesday Nov 6th The arms being taken from the Saints the mob now felt safe and were no longer militia they formed themselves into companies and went forth on horseback armed to harrass the saints and pick up all the arms they could find. Two of these companies were headed by [p. [13]]