Home

>
Execution, 19 December 1842 [City of Nauvoo v. Clements and N. Tanner]
Source Note

JS as Mayor and Justice of the Peace, , to City Marshal [], , Hancock Co., IL, 19 Dec. 1842,

City of Nauvoo v. Clements and N. Tanner

(Nauvoo, IL, Mayor's Court 1842); handwriting of ; certified by JS, 19 Dec. 1842; docket by , [, Hancock Co., IL], [19 Dec. 1842]; notations by , 19 Dec. 1842, 1 Mar. 1843, and 7 Mar. 1843; notation by , ca. 7 Mar. 1843; two pages; Nauvoo, IL, Records, CHL. Includes seal.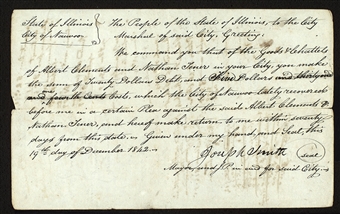 State of Illinois)
City of )
The People of the State of , to the City of said , Greeting:
We command you that of the Goods & Chattels of Albert Clements and Nathan Tener [Tanner] in your , you make the sum of Twenty Dollars Debt, and Five Dollars and thirty and and <​one​> fourth Cents Costs, which the City of lately recovered before me in a certain Plea against the said Albert Clements & Nathan Tener, and hereof make return to me within seventy days from this date.— Given under my hand and Seal, this 19
th

.
day of December 1842.—
Mayor, and J. P. in and for said .— [p. [1]]
State of Illinois)
City of )
The People of the State of , to the City of said , Greeting:
We command you that of the Goods & Chattels of Albert Clements and Nathan Tener [Tanner] in your , you make the sum of Twenty Dollars Debt, and Five Dollars and thirty and and one fourth Cents Costs, which the City of lately recovered before me in a certain Plea against the said Albert Clements & Nathan Tener, and hereof make return to me within seventy days from this date.— Given under my hand and Seal, this 19
th
. day of December 1842.—
Mayor, and J. P. in and for said .— [p. [1]]