Home

>
History, circa June–October 1839 [Draft 1]
Source Note

JS, History, [ca. June–Oct. 1839], draft; handwriting of ; twenty-five pages; CHL. Includes file notes.

This draft history was inscribed in a makeshift gathering of nine loose leaves measuring 12⅜ × 15¾ inches (31 × 40 cm), folded in half to form eighteen unlined leaves measuring 12⅜ × 7⅞ inches (31 × 20 cm). The loose leaves are held together by a piece of string threaded through two holes in the upper half of the center fold of the leaves. Other holes in the folds indicate that additional sewing was in place at some earlier time. The eighteen-leaf gathering was used circa July 1833 as part of an effort to index JS's revision of the Bible. inscribed the first page of the gathering with the title "Scriptures on Covenants", followed by five lines of references from JS's revision of Genesis. This entire page was lined in graphite by Frederick G. Williams. A remnant of a wafer is also found on the upper left corner of this original first page, indicating that it may have been attached to a book or that another document was attached to the page. At some point, apparently in preparation to be used for the history draft, the fold of the gathering was inverted so that the original first and last pages became the center of the gathering (pages 18 and 19) and the original center spread became the first page and last page. inscribed the history draft on twenty-five pages of the gathering, leaving eleven pages blank.

After its inscription in 1839, the whereabouts of this text for the remainder of the nineteenth century are unknown, though it presumably remained in church custody. The document was not listed on any of the known early Church Historian's Office inventories, which did not detail all holdings. The first known listing of the history draft is in the inventory from circa 1905. The document is also listed on a 1970 inventory of papers of Joseph Fielding Smith, who had served as church historian and recorder of The Church of Jesus Christ of Latter-day Saints since 1921, perhaps indicating that the document had been in his possession for some time. The draft history became part of the First Presidency's papers when Smith became president of the church in 1970, and it remained there until it was transferred in 2010 to the Church History Library.

Footnotes

1

See Jensen, "Ignored and Unknown Clues of Early Mormon Record Keeping," 147–154.  

Jensen, Robin Scott. "Ignored and Unknown Clues of Early Mormon Record Keeping." In Preserving the History of the Latter-day Saints, edited by Richard E. Turley Jr. and Steven C. Harper, 135–164. Provo, UT: Religious Studies Center, Brigham Young University, 2010.

2

"Contents of Box No. Two," Joseph Fielding Smith, Papers, 1893–1973, CHL.  

Smith, Joseph Fielding. Papers, 1893–1973. CHL. MS 4250.

3

"Inventory of President Joseph Fielding Smith's Safe," 23 May 1970, First Presidency, General Administration Files, CHL.  

"Inventory of President Joseph Fielding Smith's Safe," 23 May 1970. First Presidency, General Administration Files, 1921–1972. CHL.

Historical Introduction

The history drafted in 1839 was inscribed by , who began writing for JS on 3 September 1838. In addition to his work on the history, Mulholland served as a scribe for patriarchal blessing records, JS's second letterbook, and JS's journals. After an interruption of his clerical work brought on by JS's imprisonment, Mulholland "commenced again to write for the Church" on 22 April 1839. JS's journal noted that JS "began to study & prepare to dictate history" on 10 June and that he dictated history while Mulholland wrote on 11–14 June. During JS's 15–26 June absence from while visiting his brothers and , Mulholland remained in Commerce, "writing history" on three days and "studying for history" for part of another day. Work done by Mulholland in JS's absence may have included organizing sources from which to compile history, drafting the history itself from other sources, or making a clean draft of the history, as explained in the next section. After JS returned, he dictated history to Mulholland on three additional days. Mulholland mentioned in his journal spending several more days writing for the church, without specifying which project he was working on.

Because the history produced by JS and in 1838 is not extant, it is impossible to know the exact relationship between that work and the extant versions of JS's history presented here. It is probable, however, that Draft 1 represents the resumption of the historical narrative at the point where the now-lost 1838 manuscript ended. The extant draft picks up the narrative at the baptism of JS and and covers the publication of the Book of Mormon, the organization of the Church of Christ, and events later in 1830. The narrative covering mid-April through August 1830, much of which involved as either a participant or an eyewitness, is relatively detailed. It was likely during work on this portion of the history that, according to JS's journal, JS was "assisted by Br Newel Knight."

When created the twenty-five-page Draft 1, it appears he began with an outline, identifying revelations, events, and other pieces of information and leaving blank space between these notations to be filled in later with connective narrative supplied by JS, , or other sources. Beginning on the second page, Mulholland named particular revelation texts from the 1835 edition of the

Doctrine and Covenants

that were to be inserted into the history, but he did not copy the full texts from the Doctrine and Covenants into this draft. The revelations served as the initial threads around which JS wove his dictated narrative. Beginning with page 9 of Draft 1, following the notation to insert the title page of the Book of Mormon, the inscription pattern becomes much more complex. It appears that at this point, Mulholland began to write in dates of conferences, names of individuals baptized, and other key details, leaving large blank spaces between. This procedure for creating the history was not without drawbacks. When Mulholland came back and composed text or transcribed JS's dictation to fill in the details, the narrative sometimes exceeded the reserved space, forcing Mulholland to squeeze extra lines of text onto the page. At other times the inserted narrative fell short of filling in all the blank space set aside for it. False starts are evident throughout much of the middle portion of the draft history.

JS's work on the history was interrupted in early July 1839 when a malaria epidemic in and vicinity required JS and to attend to the sick for an extended period. continued to work on JS's history until at least 26 July. Many of the entries in his personal journal that mention "writing for the Church" may refer to additional work on the history. Mulholland's tenure as a scribe was cut short when he died on 3 November 1839, possibly the victim of a stroke.

Footnotes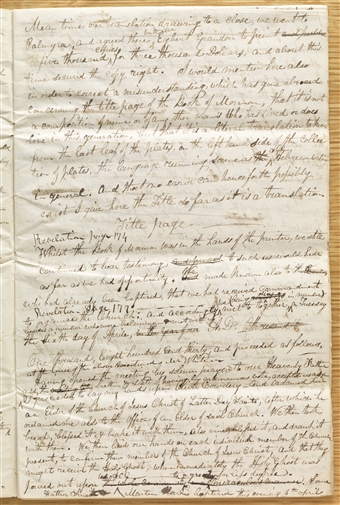 Mean time our translation drawing to a close, we went to , and agreed there <​with M
r
​> to print
and publish
it
five thousand <​copies​> for three thousand Dollars, and about this time secured the copy right. I would mention here also in order to correct a misunderstanding, which has gone abroad concerning the title page of the Book of Mormon, that it is not a composition of mine or of any other man's who has lived or does live in this generation, but that it is a literal translation taken from the last leaf of the plates, on the left hand side of the collection of plates, the language running same as
the
<​all​> Hebrew <​wr[i]ting​>
language
<​in general​>. And that no error can henceforth possibly exist I give here the Title so far as it is a translation.
Title page—
Revelation page 174
<​Whilst the Book of Mormon was in the hands of the printer, we still continued to bear testimony,
and preach
to such as would hear as far as we had opportunity.
And
<​We​> made known also to
the
<​those​>
members
who had already been baptized, that we had received commandment to organize the Church: and
according to
accordingly <​we​> met to together, <​(being
about 30
<​six​> in number) besides a number who were beleiving—met with us​> on Tuesday the Sixth day of Aprile
in the year of our
A.D.
A thousand &
One thousand, Eight hundred and thirty, and proceeded, as follows, <​at the house of the above mentioned s
——
​>​>
Having opened the meeting by solemn prayer to our Heavenly Father <​and the
meeting Ch
brethren & sisters having by a unamious vote, accepted us as &c​> I proceeded to lay my hands upon —and ordained him an Elder of the Church of Jesus Christ of Latter Day Saints, after which he ordained me also to the office of an Elder of said Church. We then took bread, blessed it, & brake it with them, also wine, blessed it, and drank it with them. We then laid our hands on each individual member of the Church present, to confirm them members of the Church of Jesus Christ, and that they might receive the Holy Ghost, when immediately the Holy Ghost was poured out upon <​us all​>
the whole community
<​to a gre
◊
ter or less degree.​>
in a <​very​> miraculous manner
. <​ baptized this evening 6
th
April & Sister Rockwell 2 or 3 days afterwards​> Some [p. [9]]
Mean time our translation drawing to a close, we went to , and agreed there with Mr to print five thousand copies for three thousand Dollars, and about this time secured the copy right. I would mention here also in order to correct a misunderstanding, which has gone abroad concerning the title page of the Book of Mormon, that it is not a composition of mine or of any other man's who has lived or does live in this generation, but that it is a literal translation taken from the last leaf of the plates, on the left hand side of the collection of plates, the language running same as all Hebrew writing in general. And that no error can henceforth possibly exist I give here the Title so far as it is a translation.
Title page—
Revelation page 174
Whilst the Book of Mormon was in the hands of the printer, we still continued to bear testimony, to such as would hear as far as we had opportunity. We made known also to those who had already been baptized, that we had received commandment to organize the Church: and accordingly we met to together, (being six in number) besides a number who were beleiving—met with us on Tuesday the Sixth day of Aprile A.D. One thousand, Eight hundred and thirty, and proceeded, as follows, at the house of the above mentioned s
——
Having opened the meeting by solemn prayer to our Heavenly Father and the brethren & sisters having by a unamious vote, accepted us as &c I proceeded to lay my hands upon —and ordained him an Elder of the Church of Jesus Christ of Latter Day Saints, after which he ordained me also to the office of an Elder of said Church. We then took bread, blessed it, & brake it with them, also wine, blessed it, and drank it with them. We then laid our hands on each individual member of the Church present, to confirm them members of the Church of Jesus Christ, and that they might receive the Holy Ghost, when immediately the Holy Ghost was poured out upon us all to a greter or less degree. . baptized this evening 6th April & Sister Rockwell 2 or 3 days afterwards Some [p. [9]]