Home

>
Hyrum Smith, Testimony, 1 July 1843 [Extradition of JS for Treason]
Source Note

, Testimony, , Hancock Co., IL, 1 July 1843,

Extradition of JS for Treason

(Nauvoo, IL, Municipal Court 1843). Copied [3–6 July 1843]; handwriting of and ; docket by , [6 July 1843, , Hancock Co., IL]; docket by , ca. [6] July 1843; notation by , ca. [6] July 1843; twenty-eight pages; Nauvoo, IL, Records, CHL.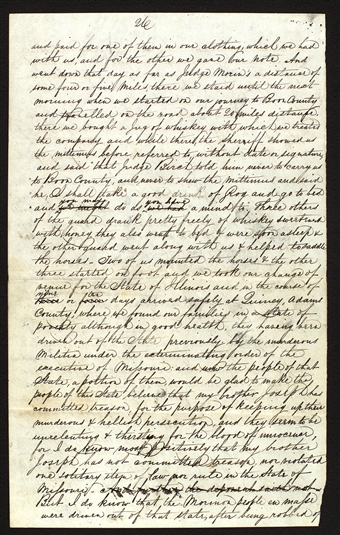 and paid for one of them in our clothing, which we had with us, and for the other we gave our note. And went down that day as far as 's a distance of some four or five miles, there we staid until the next morning when we started on our journey to and travelled on the road about 20 miles distance, there we bought a Jug of whiskey with which we treated the company and while there, the Sheriff showed us the before referred to, without date or signature, and said "that told him never to carry us to , and never to shew the and said he, I shall take a good drink of Grog and go to bed and <​you may​>
we might
do as <​you have​>
we had
a mind to." Three others of the guard drank pretty freely of whiskey sweetened with honey, they also went to bed & were soon asleep & the other guard went along with us & helped to saddle the horses— Two of us mounted the horses & the other three started on foot and we took our change of venue for the State of and in the course of
three
<​nine​> or
four
<​ten​> days arrived safely at , Adams County, where we found our families in a state of poverty although in good health; they having been driven out of the previously, by the murderous militia under the exterminating order of the of : and now the people of that , a portion of them, would be glad to make the people of this believe that my brother Joseph has committed treason, for the purpose of keeping up their murderous & hellish persecution, and they seem to be unrelenting &
thirsty
<​thirsting​> for the blood of innocence, for I do know most positively that my brother Joseph has not committed treason, nor violated one solitary item of law
n
or rule in the State of .
And further the saith not—
But I do know that the Mormon people en masse were driven out of that , after being robbed of [p. 26]
and paid for one of them in our clothing, which we had with us, and for the other we gave our note. And went down that day as far as 's a distance of some four or five miles, there we staid until the next morning when we started on our journey to and travelled on the road about 20 miles distance, there we bought a Jug of whiskey with which we treated the company and while there, the Sheriff showed us the before referred to, without date or signature, and said "that told him never to carry us to , and never to shew the and said he, I shall take a good drink of Grog and go to bed and you may do as you have a mind to." Three others of the guard drank pretty freely of whiskey sweetened with honey, they also went to bed & were soon asleep & the other guard went along with us & helped to saddle the horses— Two of us mounted the horses & the other three started on foot and we took our change of venue for the State of and in the course of nine or ten days arrived safely at , Adams County, where we found our families in a state of poverty although in good health; they having been driven out of the previously, by the murderous militia under the exterminating order of the of : and now the people of that , a portion of them, would be glad to make the people of this believe that my brother Joseph has committed treason, for the purpose of keeping up their murderous & hellish persecution, and they seem to be unrelenting & thirsting for the blood of innocence, for I do know most positively that my brother Joseph has not committed treason, nor violated one solitary item of law or rule in the State of . But I do know that the Mormon people en masse were driven out of that , after being robbed of [p. 26]