Home

>
Letter from Daniel Shearer, 5 June 1844
Source Note

Daniel Shearer, Letter, Fareplay, Green Co., IN, to JS, , Hancock Co., IL; handwriting presumably of Daniel Shearer; docket in handwriting of ; notation in unidentified handwriting; two pages; JS Collection, CHL.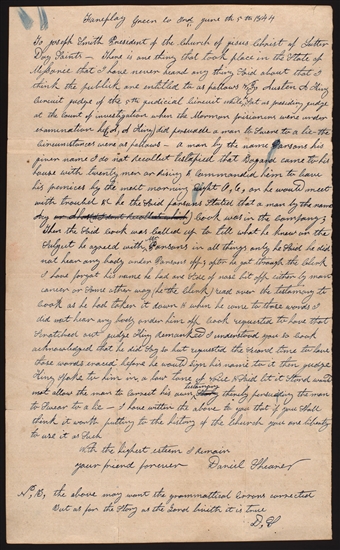 Fareplay Green Co In
d
. june th[e] 5th 1844
To joseph Smith President of the Church of jesus Christ of Latter Day Saints— There is one thing that took place in the State of that I have never heard any thing Said about that I think the publick are entitled to as follows v'z, Circuit judge of the 5
th
judicial Circuit while <​he​> sat as presiding judge at the Court of investigation when the Mormon prisioners were under examination he () did persuade a man to Swere to a lie— the Circumstances were as follows— A man by the name [Thorit] Parsons his given name I do not Recollect testafied that came to his house with twenty men or Rising & Commanded him to leave his premices by the mext [next] morning Eight O' C, or he would meet with troubel &c he the Said parsons Stated that a man by the name Acy
or Ahas (& I dont Recollect which)
[Asa] Cook was in the company; Then the Said Cook was Called up to tell what he knew on the Subject he agreed with <​M
r

.
​> Parsons in all things only he Said he did not hear any body order Parsons off; after he got through the Clerk I have forgot his name he had one Side of nose bit off either by man[,] cancer or some other way (he the Clerk) read over the testamony to Cook as he had taken it down & when he came to those words I did not hear any body order him off Cook requested to have that Scratched out Remarked I understood you so Cook acknowledged that he did Say So but requested the Second time to have those words eraced before he would Sign his name to it then Spoke to him in a low tone of voice & said let it Stand would not allow the man to correct his own <​testamony​>
Story
thereby persuading the man to Swear to a lie— I have w[r]itten the above to you that if you Shall think it worth putting to the history of the Church you are [at?] liberty to use it as Such
With the highest esteem I Remain your friend forever
Daniel Shearer
N,B, the above may want the grammattical Errors corrected But as for the story as the Lord livith it is true
D, S [p. [1]]
Fareplay Green Co In
d
. june the 5th 1844
To joseph Smith President of the Church of jesus Christ of Latter Day Saints— There is one thing that took place in the State of that I have never heard any thing Said about that I think the publick are entitled to as follows v'z, Circuit judge of the 5th judicial Circuit while he sat as presiding judge at the Court of investigation when the Mormon prisioners were under examination he () did persuade a man to Swere to a lie— the Circumstances were as follows— A man by the name Thorit Parsons his given name I do not Recollect testafied that came to his house with twenty men or Rising & Commanded him to leave his premices by the mext [next] morning Eight O' C, or he would meet with troubel &c he the Said parsons Stated that a man by the name Acy Asa Cook was in the company; Then the Said Cook was Called up to tell what he knew on the Subject he agreed with M
r
. Parsons in all things only he Said he did not hear any body order Parsons off; after he got through the Clerk I have forgot his name he had one Side of nose bit off either by man, cancer or some other way (he the Clerk) read over the testamony to Cook as he had taken it down & when he came to those words I did not hear any body order him off Cook requested to have that Scratched out Remarked I understood you so Cook acknowledged that he did Say So but requested the Second time to have those words eraced before he would Sign his name to it then Spoke to him in a low tone of voice & said let it Stand would not allow the man to correct his own testamony thereby persuading the man to Swear to a lie— I have written the above to you that if you Shall think it worth putting to the history of the Church you are [at] liberty to use it as Such
With the highest esteem I Remain your friend forever
Daniel Shearer
N,B, the above may want the grammattical Errors corrected But as for the story as the Lord livith it is true
D, S [p. [1]]