Home

>
Letter from Don Carlos Smith, circa Late May 1838
Source Note

, Letter, near , Vigo Co., IN, to JS, [, Caldwell Co., MO], [ca. late May 1838]. Featured version copied [ca. July 1838] in

JS, Journal, Mar.–Sept. 1838, pp. 50–51

; handwriting of ; CHL. Includes use marks. For more complete source information, see the source note for

JS, Journal, Mar.–Sept. 1838

.

Historical Introduction

While the extended Smith family was moving from to in mid-1838, wrote to his brother JS regarding the journey. The move was in response to a

revelation

that JS had dictated in January, directing the members of the and their families to leave "as soon as it is praticable" and for their "faithfull friends" to "arise with their families also and get out of this place and gather themselves together unto ." JS left Kirtland, Ohio, that night and was joined by his and children a few days later in , Ohio. From there, they made their way to , Missouri. , JS's brother and a counselor in the First Presidency, departed Kirtland with his family in late March and arrived at Far West in late May. Before leaving, he arranged for the Smiths still in Ohio to receive financial assistance for their move to Missouri. These arrangements, however, fell through, and the twenty-eight travelers, consisting of the extended Smith family and a few others, were underfunded when they departed Norton on 7 May 1838. Before the group was halfway to , they had spent over one hundred dollars and had only twenty-five dollars for the remainder of the journey. While the group was traveling through the vicinity of , Indiana, one of the horses became lame and the group stopped to care for it, providing an opportunity for Don Carlos Smith to write to JS.

Although the letter is undated, the timing of the letter can be estimated by correlating the group's month-long journey between and the (as referenced in the reminiscences of and in the featured letter) with contemporaneous accounts of other Latter-day Saints traveling the same or nearly the same route. The well-documented travels of the 1834 expedition (later known as Zion's Camp) and of the 1838 "Kirtland Camp" migration suggest that the Smiths' group was likely in the vicinity of sometime between 24 and 28 May. At the end of the letter, wrote, "It is now dark and I close," suggesting that he wrote the letter in the twilight.

In the letter, recounted the difficulty the Smith family experienced trying to fund their migration, and he also mentioned some of the problems the party encountered en route. Because of these challenges, he requested that JS or send money to help the travelers complete their journey. It is uncertain when JS received the letter. It should have reached from near in about one to two weeks. JS's scribe, , copied the letter into JS's

journal

after a

letter

that JS received from and on 6 July and before a journal entry for 8 July 1838, suggesting JS received the letter sometime between 6 and 8 July. These entries fall within a large gap in regular journal keeping, and Robinson apparently did not resume making regular entries until late July, which indicates that he may not have copied the letter from Don Carlos Smith before that time. The original letter is apparently not extant.

JS may have responded to the letter by sending the requested financial assistance, just as the Saints in had sent him financial assistance to complete his journey. The Smith party may have received such assistance when they arrived in , Missouri. later recounted that upon arriving there, they rested in a home for a while and arranged for a buggy to transport her daughter , who was ill and lagging behind. Lucy further recounted that when the group moved on from Huntsville, they were able to pursue their journey "without any further difficulty."

Footnotes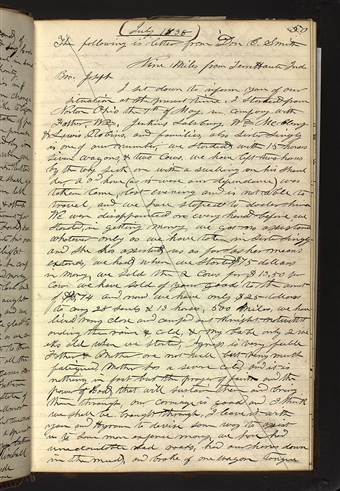 Nine Miles from , Ind.
Bro. Joseph
I sit down to inform you of our situation at the present time. I started from , Ohio, the 7
th
of May, in company with , , , & Lewis Rob[b]ins, and families, also sister singly is one of our number, we started with 15 horses seven wagons, & two cows, we have left two horses by the way sick one with a swelling
in
<​on​> his shoulder, a 3
rd
horse (as it were our dependance) was taken lame, last evening and is not able to travel, and we have stop[p]ed to docter him We were disappointed on every hand before we started, in getting money, we got no assistance whatever only as we have taken in sister singly and she has assisted us as far as her means extends, we had when we started, $75 dollars in money, we sold the 2 cows for $13.50 per cow we have sold of your goods to the amt of $45.74 and now we have only $25 dollars to carry 28 souls & 13 horses, 500 miles, we have lived very close and camped out knight, notwithstanding the rain & cold, & my babe only 2 weeks old when we started, is very feeble & are not well but very much fatigued, has a severe cold, and it is nothing in fact but the prayer of faith and the power of God, that will sustain them and bring them through, our carriage is good and I think we shall be braught through, I leave it with you and to devise some way to assist us to some more expence money, we have had unaccountable
road
<​bad​> roads, had our horses down in the mud, and broke of[f] one wagon tongue [p. 50]
Nine Miles from , Ind.
Bro. Joseph
I sit down to inform you of our situation at the present time. I started from , Ohio, the 7th of May, in company with , , , & Lewis Robbins, and families, also sister singly is one of our number, we started with 15 horses seven wagons, & two cows, we have left two horses by the way sick one with a swelling on his shoulder, a 3rd horse (as it were our dependance) was taken lame, last evening and is not able to travel, and we have stopped to docter him We were disappointed on every hand before we started, in getting money, we got no assistance whatever only as we have taken in sister singly and she has assisted us as far as her means extends, we had when we started, $75 dollars in money, we sold the 2 cows for $13.50 per cow we have sold of your goods to the amt of $45.74 and now we have only $25 dollars to carry 28 souls & 13 horses, 500 miles, we have lived very close and camped out knight, notwithstanding the rain & cold, & my babe only 2 weeks old when we started, is very feeble & are not well but very much fatigued, has a severe cold, and it is nothing in fact but the prayer of faith and the power of God, that will sustain them and bring them through, our carriage is good and I think we shall be braught through, I leave it with you and to devise some way to assist us to some more expence money, we have had unaccountable bad roads, had our horses down in the mud, and broke off one wagon tongue [p. 50]