Home

>
Letter from Elias Higbee, 24 March 1840
Source Note

, Letter, , to JS, [, Hancock Co., IL?], 24 Mar. 1840. Featured version copied [between Apr. and June 1840] in

JS Letterbook 2, pp. 105–107

; handwriting of ; JS Collection, CHL. For more complete source information, see the source note for

JS Letterbook 2

.

Historical Introduction

While in on 24 March 1840, wrote a letter to JS, the last in a series of letters apprising JS of the actions of the Senate Committee on the Judiciary, which was considering the 's

memorial

to Congress. In this letter, Higbee informed JS that the Senate approved the committee's resolution to no longer consider the church's memorial and that he had retrieved all the documents the church's delegation had submitted along with the memorial. He also updated JS on the prospect of submitting the memorial to the House of Representatives and on his plans to travel back to the , Illinois, area.

presumably sent this letter to . The original letter is not extant. copied the version featured here into

JS Letterbook 2

sometime between April and June 1840.

Footnotes

1

See Historical Introduction to Letter from Elias Higbee, 20 Feb. 1840–A.  

2

Coray, Autobiographical Sketch, 17, 19.  

Coray, Howard. Autobiographical Sketch, after 1883. Howard Coray, Papers, ca. 1840–1941. Photocopy. CHL. MS 2043, fd. 1.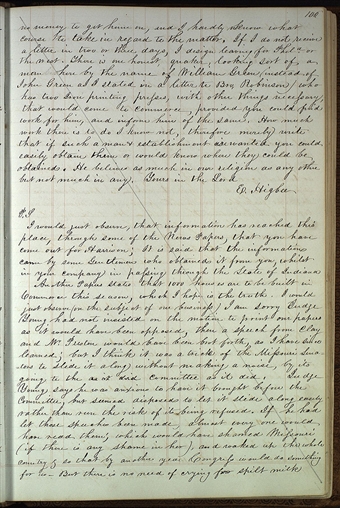 no money to get home on, and I hardly know what course to take in regard to the matter. If I do not receive a letter in two or three days, I design leaving for or the west. There is one honest, quaker, looking sort of a man
by
here by the name of William Green (instead of John Green as I stated in a letter to Bro. Robinson) who has two Iron printing presses, with other things necessary, that would come to , provided you could find work for him, and inform him of the same. How much work there is to do I know not, therefore merely write that if such a man & establishment
are
<​is​> wanted you could easily obtain them or would know where they could be obtained. He believes as much in our religion as any other but not much in any. Yours in the Lord
P.S
I would just observe, that information has reached this place, through some of the News Papers, that you have come out for Harrison; It is said that the information came by some Gentlemen who obtained it from you, whilst in your company in passing through the State of
Another Papers states that 1000 houses are to be built in this season, which I hope is the truth. I would just observe (on the subject of our business) I am sorry had not insisted on the motion to print our papers as it would have been opposed, then a speech from and M
r.
[William Campbell] Preston would have been brot forth, as I have since learned; but I think it was a trick of the Senators to slide it along without making a noise, by its going to the
as
it
did
committee as it did. says he was anxious to have it brought before the Committee, but seemed disposed to let it slide along easily rather than run the risk of its being refused. If he had let those speeches been made, almost every one would have read them; which would have shamed (if there is any shame in her), and waked up the whole country, so that by another year Congress would do something for us— But there is no need of crying for spilt milk [p. 106]
no money to get home on, and I hardly know what course to take in regard to the matter. If I do not receive a letter in two or three days, I design leaving for or the west. There is one honest, quaker, looking sort of a man here by the name of William Green (instead of John Green as I stated in a letter to Bro. Robinson) who has two Iron printing presses, with other things necessary, that would come to , provided you could find work for him, and inform him of the same. How much work there is to do I know not, therefore merely write that if such a man & establishment is wanted you could easily obtain them or would know where they could be obtained. He believes as much in our religion as any other but not much in any. Yours in the Lord
P.S
I would just observe, that information has reached this place, through some of the News Papers, that you have come out for Harrison; It is said that the information came by some Gentlemen who obtained it from you, whilst in your company in passing through the State of
Another Papers states that 1000 houses are to be built in this season, which I hope is the truth. I would just observe (on the subject of our business) I am sorry had not insisted on the motion to print our papers as it would have been opposed, then a speech from and Mr. William Campbell Preston would have been brot forth, as I have since learned; but I think it was a trick of the Senators to slide it along without making a noise, by its going to the committee as it did. says he was anxious to have it brought before the Committee, but seemed disposed to let it slide along easily rather than run the risk of its being refused. If he had let those speeches been made, almost every one would have read them; which would have shamed (if there is any shame in her), and waked up the whole country, so that by another year Congress would do something for us— But there is no need of crying for spilt milk [p. 106]