Letter from George Fidler, 23 March 1842
Source Note

, Letter, , IL, to JS, , IL, 23 Mar. 1842; handwriting presumably of ; four pages; JS Collection, CHL. Includes endorsements.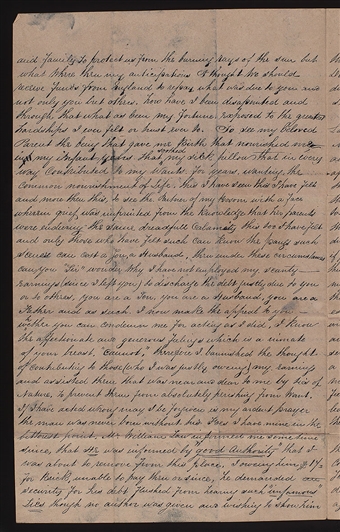 and family to protect us from the burning rays of the sun but what where [were] then my anticipations I thought we should receive funds from to repay what was due to you and not only you but others. how have I been disapointed and through that what [h]as been my fortune. Exposed to the greatest hardships I ever felt or trust ever to. To see my beloved Parent the being that gave me Birth that nourished
my inf
me in my infant years. That <​soothed​> my sick pillow that in every way Contributed to my Wants. for years, wanting. the common nourishment of Life. this I have seen this I have felt and more then this, to see the. Partner of my Bosom with a face wherein grief was imprinted from the knowledge that her parents were enduring the same dreadfull calamity this too I have felt and only those who have felt such can know the pangs such Scene's can cost a Son, a Husband, then under these circumstances can you. "Sir" wonder why I have not employed my. scanty— earnings (since I left you) to discharge the debt justly due to you or to others, you are a Son, you are a Husband, you are a Father and as such. I now make the appeal to you— whether you can condemn me for acting as I did, I know the affectionate and generous feelings which is a[n] inmate of your breast. "Cannot," therefore I. bannished the thought of contributing to those (who I was justly oweing,) my. earnings and assisted them that was near and dear to me by ties of Nature, to prevent them from absolutely perishing from Want. If I have acted wrong may I be forgiven is my ardent prayer the man was never born without his Foes I have mine in the bitterest point, M
r.
informed me sometime since, that
HE
was informed by "
good Authority
" that I was about to remove from this place, I oweing him $17— for Brick, unable to pay then or since, he demanded security for his debt flushed from hearing such "
infamous
"
Lies
though no author was given and wishing to show him [p. [2]]
and family to protect us from the burning rays of the sun but what where [were] then my anticipations I thought we should receive funds from to repay what was due to you and not only you but others. how have I been disapointed and through that what [h]as been my fortune. Exposed to the greatest hardships I ever felt or trust ever to. To see my beloved Parent the being that gave me Birth that nourished me in my infant years. That soothed my sick pillow that in every way Contributed to my Wants. for years, wanting. the common nourishment of Life. this I have seen this I have felt and more then this, to see the. Partner of my Bosom with a face wherein grief was imprinted from the knowledge that her parents were enduring the same dreadfull calamity this too I have felt and only those who have felt such can know the pangs such Scene's can cost a Son, a Husband, then under these circumstances can you. "Sir" wonder why I have not employed my. scanty— earnings (since I left you) to discharge the debt justly due to you or to others, you are a Son, you are a Husband, you are a Father and as such. I now make the appeal to you— whether you can condemn me for acting as I did, I know the affectionate and generous feelings which is an inmate of your breast. "Cannot," therefore I. bannished the thought of contributing to those (who I was justly oweing,) my. earnings and assisted them that was near and dear to me by ties of Nature, to prevent them from absolutely perishing from Want. If I have acted wrong may I be forgiven is my ardent prayer the man was never born without his Foes I have mine in the bitterest point, Mr. informed me sometime since, that
HE
was informed by "
good Authority
" that I was about to remove from this place, I oweing him $17— for Brick, unable to pay then or since, he demanded security for his debt flushed from hearing such "
infamous
"
Lies
though no author was given and wishing to show him [p. [2]]