Home

>
Letter from Horace Hotchkiss, 7 February 1842
Source Note

, Letter, , CT, to JS, , IL, 7 Feb. 1842; handwriting of ; one page; JS Collection, CHL. Includes endorsements.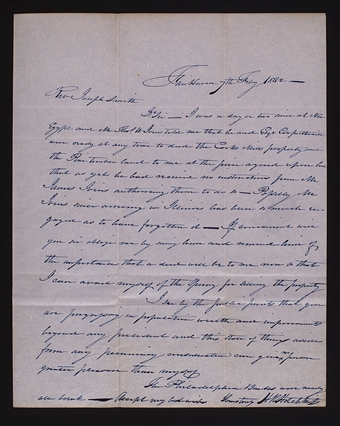 7th Feby 1842—
Rev Joseph Smith
D. Sir— I was a day or two since at and Mr Tho
s.
W Ivins told me that he and Esq
r.
Cowperthwaite were ready at any time to deed the Cooks Mills property and the Pine timber land to me at the price agreed upon but that as yet he had received no instructions from Mr authorising them to do so— Possibly since arriving in has been so much engaged as to have forgotten it— If convenient will you sir oblige me by seeing him and remind him of the importance that a deed will be to me now so that I can avail myself of the Spring for selling the property
I see by the public prints that you are progressing in population wealth and improvements beyond any precident and this state of things aside from any pecuniary consideration can give <​no​> person greater pleasure than myself
The Banks will nearly all break— Accept my best wishes
Yours truly [p. [1]]
7th Feby 1842—
Rev Joseph Smith
D. Sir— I was a day or two since at and Mr Thos. W Ivins told me that he and Esqr. Cowperthwaite were ready at any time to deed the Cooks Mills property and the Pine timber land to me at the price agreed upon but that as yet he had received no instructions from Mr authorising them to do so— Possibly since arriving in has been so much engaged as to have forgotten it— If convenient will you sir oblige me by seeing him and remind him of the importance that a deed will be to me now so that I can avail myself of the Spring for selling the property
I see by the public prints that you are progressing in population wealth and improvements beyond any precident and this state of things aside from any pecuniary consideration can give no person greater pleasure than myself
The Banks will nearly all break— Accept my best wishes
Yours truly [p. [1]]