Home

>
Letter from Isaac W. Stathem, 10 May 1843
Source Note

Isaac W. Stathem, Letter, , Philadelphia Co., PA, to JS, , Hancock Co., IL, 10 May 1843; handwriting of Isaac W. Stathem; dockets in handwriting of and ; three pages; JS Collection, CHL.

Historical Introduction

On 10 May 1843, Isaac Stathem wrote a letter from Philadelphia to JS in Nauvoo, Illinois, to inquire about land arrangements Stathem had made in Nauvoo and to claim that he and his wife had been unjustly disfellowshipped by the Philadelphia branch of the church. Stathem purchased land in Nauvoo in 1841 and then entered an agreement with Arthur Morrison, who owned an adjoining tract, allowing Morrison to rent Stathem's land and house for thirty-six dollars a year. Stathem also entered into an agreement with a "Mathews"—probably Anson Mathews—for additional land. In 1842, George W. Robinson brought a suit against Stathem in the Hancock County Circuit Court for nonpayment of a forty-dollar debt. When Stathem did not show up for the trial, the court ordered that a house owned by Stathem that was "a few paces North of the Store of Arhur Morison" be sold to pay the debt. This was probably the same house Morrison was renting from Stathem. If so, Stathem seemed unaware of the court order; he had previously asked Brigham Young to collect the rent from Morrison and pay it to Mathews as partial payment on the land, and he stated in the 10 May 1843 letter featured here that he expected that Young had collected another year's rent. Young may have been involved in the transaction because he had made his own arrangement to purchase some land from Mathews. Stathem may have agreed to purchase some of the land Young bought from Mathews.

Sometime before February 1842, Stathem arrived in Philadelphia, where he was a supporter of Benjamin Winchester, the presiding elder of the Philadelphia branch. When Winchester and a group of his supporters split off from the rest of the branch and began meeting in a new building, Stathem followed them. One branch member referred to Stathem as one of Winchester's "immediate Friends that Constantly surround him." Stathem ran into difficulties after Hyrum Smith and William Law set the Philadelphia branch in order under Peter Hess's leadership as presiding elder. Hess informed Hyrum Smith and JS in February 1843 that Stathem and his wife (whose name is not known) were "keeping a Kind of tave[r]n and oyster house" in Philadelphia "for prostitutes and their associates to resort." The Stathems were also accused of prostituting Sister Miller, a young woman who had come to live with them after her parents disowned her because she converted to the church. The Stathems countered these charges by accusing Miller of immorality.

As a result of testimony regarding the Stathems' accusations against Miller, Stathem's wife was charged with defamation of character and using profane language. The first charge was "laid under the table" by the Philadelphia branch, a decision that Hess believed was orchestrated by Winchester and his supporters. Stathem's wife confessed to the second charge of using profanity and was exonerated. However, two months later, a "Select Council of Elders" disfellowshipped the Stathems based on Hess's charge that they were "keeping a house of ill-fame." Isaac Stathem composed this 10 May letter to tell JS his side of the story and to seek information about his Nauvoo property dealings.

The lack of postal markings on the letter suggests a courier delivered it to Nauvoo. The courier may have been Winchester, who was present at a 27 May 1843 meeting held to consider his standing in the church. Although three other letters written by Philadelphia branch members were read at this meeting, the minutes of the meeting do not mention Stathem's letter. No response from JS has been located.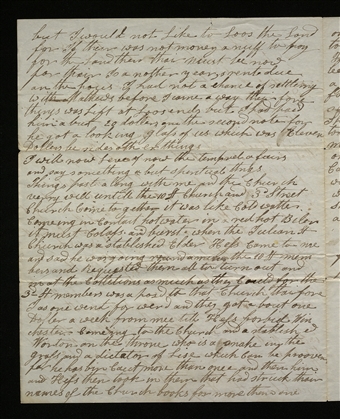 but I would not Like to Loos the Land for If their was not money a nuff to pay for the Land than thair must be now for their Is a nother year's rent due on the hous I had not a chance of settleing with Mathews before I came a way their fore things was Lift at Loos ends but I had paid him a but [about] 20 dollers on the second note for he got a looking glass of us which was Eleven Dollers be sides other things
I will now Leve of now the temprel a fairs and say something a but spiritual th[i]ngs Things past a long with me and the Church verry well untill the 10 St Church and 3
d
Street Church Come to gether it was like Cold watter Comeing in Contact [with?] hot water in a red hot B[o]iler it must Colaps. and burst when the Julian St Church was a stablished Came to me and said he was going round a mung the 10 St members and Requested them all to turn out and in at the Colletions as much as they could for the 3
d
St members was a posed to that Church thairfore I as one went for werd and they got a bout one Doller a week from mee till forbid Comeing to the Church and a stablished Worton [William Wharton] on the throne who is a snake in the grass and a dictator of Lise [lies] which Can be prooven, for he has bin Caut more than once and then him and then took in them that had struck thair names of the Church books for more them one [p. [2]]
but I would not Like to Loos the Land for If their was not money a nuff to pay for the Land than thair must be now for their Is a nother year's rent due on the hous I had not a chance of settleing with Mathews before I came a way their fore things was Lift at Loos ends but I had paid him a but [about] 20 dollers on the second note for he got a looking glass of us which was Eleven Dollers be sides other things
I will now Leve of now the temprel a fairs and say something a but spiritual things Things past a long with me and the Church verry well untill the 10 St Church and 3d Street Church Come to gether it was like Cold watter Comeing in Contact with hot water in a red hot Boiler it must Colaps. and burst when the Julian St Church was a stablished Came to me and said he was going round a mung the 10 St members and Requested them all to turn out and in at the Colletions as much as they could for the 3
d
St members was a posed to that Church thairfore I as one went for werd and they got a bout one Doller a week from mee till forbid Comeing to the Church and a stablished Worton [William Wharton] on the throne who is a snake in the grass and a dictator of Lise [lies] which Can be prooven, for he has bin Caut more than once and then him and then took in them that had struck thair names of the Church books for more them one [p. [2]]