Letter from James Adams, 4 January 1840
Source Note

, Letter, , IL, to JS, , 4 Jan. 1840; in JS Letterbook 2, pp. 95–96; handwriting of ; CHL.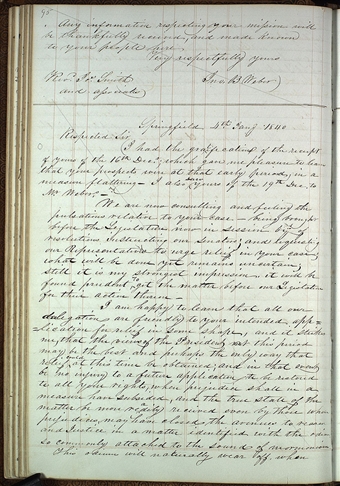 Respected Sir
I had the gra<​t​>ification
s
of the receipt of yours of the 16
th
Dec
r.
; which gave me pleasure to learn that your prospects were at that early period, in a measure flattering— I also <​saw​> yours of the 19
th
Dec. to M
r.
Weber
s.
—
We are now consulting and feeling the pulsations relative to your case— being brought before the Legislature now in session by [way] of resolutions instructing our Senators; and requesting our Representatives to urge relief in your case; what will be done yet remains uncertain; still it is my strongest impression, it will be found prudent <​to​> get the matter before our Legislature for their action thereon—
I am happy to learn that all our delegation are friendly to your intended application for relief in some shape, and it strikes me, that the views of the at this period may be the best and perhaps the only way that relief <​could​> at this time be obtained; and in that event be no injury to a future application to be restored to all your rights, when prejudice shall in a measure have subsided, and the true state of the matter be more re<​a​>dily received even by those whose prejudices, may have closed the avenues to reason and Justice in a matter identified with the odium so commonly attached to the sound of mormonism
This odium will naturally wear off, when [p. 95]
4th. Jany 1840
Respected Sir
I had the gratification of the receipt of yours of the 16th Decr.; which gave me pleasure to learn that your prospects were at that early period, in a measure flattering— I also saw yours of the 19th Dec. to Mr. Webers.—
We are now consulting and feeling the pulsations relative to your case— being brought before the Legislature now in session by [way] of resolutions instructing our Senators; and requesting our Representatives to urge relief in your case; what will be done yet remains uncertain; still it is my strongest impression, it will be found prudent to get the matter before our Legislature for their action thereon—
I am happy to learn that all our delegation are friendly to your intended application for relief in some shape, and it strikes me, that the views of the at this period may be the best and perhaps the only way that relief could at this time be obtained; and in that event be no injury to a future application to be restored to all your rights, when prejudice shall in a measure have subsided, and the true state of the matter be more readily received even by those whose prejudices, may have closed the avenues to reason and Justice in a matter identified with the odium so commonly attached to the sound of mormonism
This odium will naturally wear off, when [p. 95]