Home

>
Letter from Robert D. and Sarah Phinney Foster, circa 16 August 1842
Source Note

Sarah Phinney Foster and , Letter, , Madison Co., NY, to JS, , Hancock Co., IL, ca. 16 August 1842; handwriting of ; dockets in handwriting of and ; notation in unidentified handwriting; two pages, JS Collection, CHL.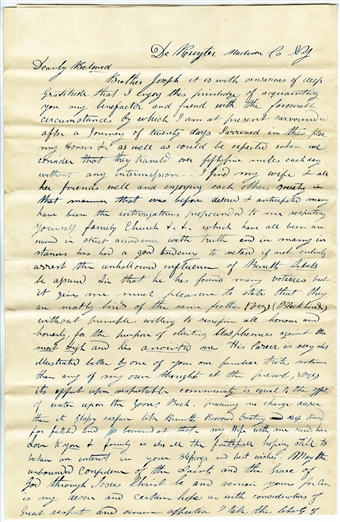 Madison Co N. Y
Brother Joseph it is with sensasions of deep Gratitude that I enjoy this priviledge of acquainting you my benefactor and friend with the favourable circumstances by which I am at present sarrounded after a Journey of twenty days I arrived in this my Horses &c as well as could be expected when we consider that they traveled over fifty five miles each day without any intermission. I find my wife & all her friends well and enjoying each others society in that manner that was before desired & anticipated many have been the interrogatones [interrogations] propounded to me respecting yourself family Church &c &c which have all been answered in strict accordance with truth and in many instances has had a good tendency to retard if not entirely arrest the unhallowed influence of
s
Libels
be assured Sir that he has found many votaries but it gives me much pleasure to state that they are mostly birds of the same feather (viz) (Blackbirds) without principle willing to sacrifice all honour and honesty, for the purpose of eliciting blasphemies against the
most
High
and his
anointed
ones
His Career is very short illustrated better by one of your own familiar trite sentances than any of my own thoughts at the present, (viz) its effect upon respectable community is equal to the effe[c]ts of water upon the Goose's Back, producng no change deeper than its glossy surface like s Borrowed Oratory
and
deaf ton
d

.
far fetchd and borrowed at that— my Wife with me sends her Love to
you
&
family
as also all the
faithfull
hoping still to retain an interest in your Blessings and best wishes— May the unbounded Confiden[c]e of the Saints and the Grace of God through Jesus Christ be and remain yours for Ever is my desire and certain hope as with considerations of Great respect and sincere affection I take the liberty of [p. [1]]
Madison Co N. Y
Brother Joseph it is with sensasions of deep Gratitude that I enjoy this priviledge of acquainting you my benefactor and friend with the favourable circumstances by which I am at present sarrounded after a Journey of twenty days I arrived in this my Horses &c as well as could be expected when we consider that they traveled over fifty five miles each day without any intermission. I find my wife & all her friends well and enjoying each others society in that manner that was before desired & anticipated many have been the interrogatones [interrogations] propounded to me respecting yourself family Church &c &c which have all been answered in strict accordance with truth and in many instances has had a good tendency to retard if not entirely arrest the unhallowed influence of
s
Libels
be assured Sir that he has found many votaries but it gives me much pleasure to state that they are mostly birds of the same feather (viz) (Blackbirds) without principle willing to sacrifice all honour and honesty, for the purpose of eliciting blasphemies against the
most
High
and his
anointed
ones
His Career is very short illustrated better by one of your own familiar trite sentances than any of my own thoughts at the present, (viz) its effect upon respectable community is equal to the effects of water upon the Goose's Back, producng no change deeper than its glossy surface like s Borrowed Oratory deaf ton
d
. far fetchd and borrowed at that— my Wife with me sends her Love to
you
&
family
as also all the
faithfull
hoping still to retain an interest in your Blessings and best wishes— May the unbounded Confidence of the Saints and the Grace of God through Jesus Christ be and remain yours for Ever is my desire and certain hope as with considerations of Great respect and sincere affection I take the liberty of [p. [1]]